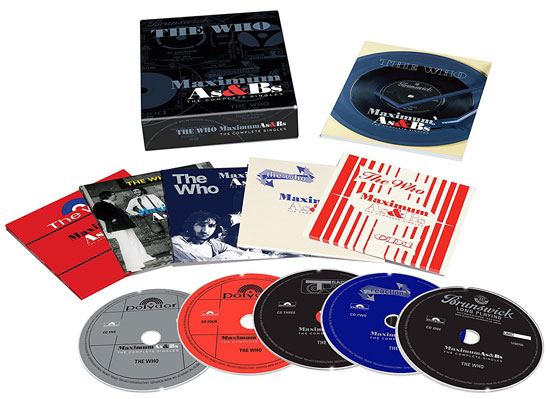 Not content with releasing the 7-inch vinyl box sets, The Who now has the Maximum As & Bs box set coming your way too.
This is a CD box set, with tracks over five discs and essentially all the A-sides, B-sides and EP tracks under one roof, kicking off with the High Numbers' Zoot Suit / I'm The Face. 86 tracks in total from the Brunswick, Reaction, Track and Polydor labels including 'rarely heard' B-sides, many of which are on CD for the first time.
Five CDs, in separate wallets, housed in what's described as a rigid, lift-off-lid style box that also includes a 48-page booklet, with track-by-track annotation by writers of The Who, period photos and memorabilia.
27th October 2017 is the release date but you can pre-order now, with the price at £42.78. Tracks listed below.
Find out more at the Amazon website
Disc: 1
1. Zoot Suit
2. I'm the Face
3. I Can't Explain
4. Bald Headed Woman
5. Anyway, Anyhow, Anywhere
6. Daddy Rolling Stone
7. My Generation
8. Shout and Shimmy
9. Circles (AKA 'Instant Party')
10. Instant Party Mixture
11. A Legal Matter
12. The Kids Are Aright
13. The Ox
14. La – La
15. The Good's Gone
Disc: 2
1. Substitute
2. Circles
3. Waltz For A Pig
4. I'm A Boy
5. In The City
6. Disguises
7. Batman
8. Bucket T
9. Barbara Ann
10. Happy Jack
11. I've Been Away
12. Pictures Of Lily
13. Doctor, Doctor
14. The Last Time
15. Under My Thumb
16. I Can See For Miles
17. Someone's Coming
18. Dogs
19. Call Me Lightning
20. Magic Bus
21. Dr Jekyll & Mr. Hyde
Disc: 3
1. Pinball Wizard
2. Dogs Part Two
3. The Seeker
4. Here For More
5. Summertime Blues
6. Heaven And Hell
7. See Me Feel Me / Listening To You
8. Overture From Tommy
9. Christmas
10. I'm Free
11. Won't Get Fooled Again
12. Don't Know Myself
13. Let's See Action
14. When I Was A Boy
15. Join Together
16. Baby Don't You Do It
17. Relay
18. Wasp Man
Disc: 4
1. 5:15
2. Water
3. Listening To You / See Me Feel Me (Soundtrack Version)
4. Overture (Soundtrack Version)
5. Squeeze Box
6. Success Story
7. Who Are You
8. Had Enough
9. Long Live Rock
10. My Wife (Live)
11. 5:15 (Soundtrack Version)
12. I'm One (Soundtrack Version)
13. You Better You Bet
14. The Quiet One
15. Don't Let Go The Coat
16. You
Disc: 5
1. Athena
2. A Man Is A Man
3. Eminence Front
4. It's Your Turn
5. Twist And Shout (Live)
6. I Can't Explain (Live)
7. Bony Maronie (Live)
8. Join Together (Live)
9. I Can See For Miles (Live)
10. Behind Blue Eyes (Live)
11. Real Good Looking Boy
12. Old Red Wine
13. Wire & Glass EP – Side A (5 x tracks)
14. Wire & Glass EP – Side B – Mirror Door
15. Be Lucky
16. I Can't Explain (2014 Stereo remix)