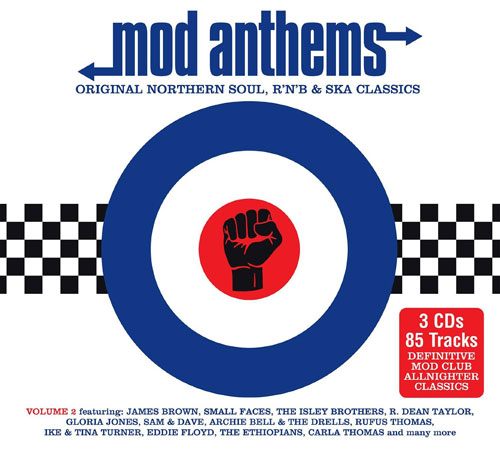 The original Mod Anthems box set last year provide to be very popular. So it is no surprise to see Rhino releasing another instalment this year – the Mod Anthems 2 box set.
It's a case of 'don't fix what ain't broken' here, with the same formula applied to the second box set as the first. That's pretty much a huge number of mod and mod-related classics sold cheap. In fact, this one is even cheaper than the last one.
Actually it does vary a little, this time it seems a little more soul and R&B-heavy, although the Small Faces make the cut for the non-soul minority.
Plenty of favourites though, all of which are listed below. If you want it you can pre-order now ahead of the 27th May shelf date, with the price for the three-disc set (and 85 tracks) at just £6.04.
Find out more at the Amazon website
Track listing:
Disc: 1
1. Night Train – James Brown
2. This Old Heart Of Mine (Is Weak For You) – The Isley Brothers
3. Land Of 1000 Dances – Wilson Pickett
4. La La La La La – The Blendells
5. Hold On, I'm Comin' – Sam & Dave
6. B-A-B-Y – Carla Thomas
7. What's Wrong With Me Baby – The Invitations
8. Boot-Leg – Booker T. & The MG's
9. Mr. Pitiful – Otis Redding
10. A Lover's Concerto – The Toys
11. When I Call Your Name – Stranger & Patsy
12. Just One Look – Doris Troy
13. I've Got A Woman – Ray Charles
14. Right Now – Mel Torme
15. At The Club – The Drifters
16. Stupidity – Solomon Burke
17. I'm The One Who Loves You (1998 Remastered Version) – The Paramounts
18. The Watusi: Killer Joe – Killer Joe Piro
19. Sookie, Sookie – Don Covay
20. Finger Poppin' – Ike & Tina Turner
21. Philly Dog – Herbie Mann
22. Walking The Dog – Rufus Thomas
23. Someday We're Gonna Love Again – Barbara Lewis
24. You're Absolutely Right – The Apollas
25. In The Twilight Zone – The Astors
26. Dont You Even Care – Leslie Uggams
27. That's When The Tears Start – The Blossoms
28. You're Such A Sweet Thing – The Marvellos
29. All Or Nothing – Patti Labelle & The Bluebelles
Disc: 2
1. Tin Soldier – The Small Faces
2. There's a Ghost in My House – R. Dean Taylor
3. Breakout – Mitch Ryder & The Detroit Wheels
4. Philly Dog – The Mar-Keys
5. Soul Finger – The Bar-Kays
6. Train To Skaville – The Ethiopians
7. Knock On Wood – Eddie Floyd
8. Respect – Aretha Franklin
9. Tramp – Otis Redding & Carla Thomas
10. Baby What I Mean – The Drifters
11. Man With The Golden Touch – Charles Thomas
12. In The Pocket – King Curtis
13. Something Good Is Going To Happen To You – Carla Thomas
14. Baby Help Me – Percy Sledge
15. Somebody Somewhere Needs You – Darrell Banks
16. Keep On Talking – Arthur Conley
17. Me and My Baby – Mary Wells
18. Thank You John (2007 Remastered Version) – Willie Tee
19. I Remember The Feeling – Barbara Lewis
20. Go For Yourself – Larry Laster
21. Satisfied – Ben Aiken
22. I'm Getting Weaker – The Soul Shakers
23. The Reason Why – The Dolls
24. Listen Here (Edit Version) – Eddie Harris
25. Never Like This Before – William Bell
26. Fireman – Vala Reegan & The Valarons
27. Sho' Nuff – JJ Jackson
28. You've Got That Something Wonderful – Percy Sledge
Disc: 3
1. Tainted Love – Gloria Jones
2. I Can't Stop Dancing – Archie Bell and The Drells
3. Time Is Tight – Booker T. & The MG's
4. Beggin' (2007 Remastered Version) – Frankie Valli & The Four Seasons
5. Mama Soul – The Soul Survivors
6. Blues In The Night – Johnnie Taylor
7. Ooh Baby – Deon Jackson
8. Just Can't Get Enough Of You – The Apollas
9. The Memphis Train – Rufus Thomas
10. Things Get Better – Eddie Floyd
11. Frantic Escape – The Innocent Bystanders
12. Tighten Up – Archie Bell and The Drells
13. Slip Away – Clarence Carter
14. I'll Do A Little Bit More – The Olympics
15. Think It Over – The Harvey Averne Dozen
16. Dance Dance Dance – The Casualeers
17. Mean It Baby – Carl Hall
18. Able Mable – Mable John
19. She's About A Mover – Otis Clay
20. A Good Thing (Is Hard to Come By) – Herbie Mann
21. Backlash – Freddie Hubbard
22. I Can't Stop Lovin' My Baby – Linda Jones
23. Where Did I Go Wrong? – The Embers
24. Keep On Striving – Moses Smith
25. Ain't No Sun (Since You've Been Gone) [2007 Remastered Version] – The Dynamics
26. Bring Your Love Back To Me – Linda Lyndell
27. Ooh Wee Baby I Love You – Roscoe Robinson
28. Come On, Let Me Love You – Moses Smith
Save