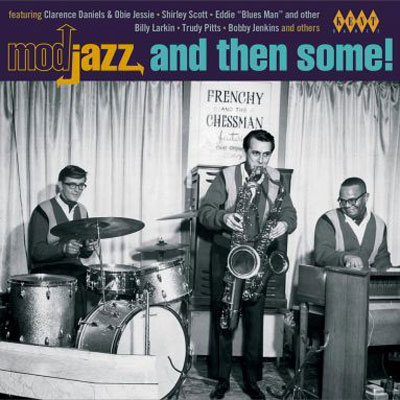 Ace Records has another potential winner coming up with the release of the Mod Jazz And Then Some! on its Kent imprint.
Yes, another volume in the Mod Jazz series, which is always nice to see. There's yet to be a bad release in that particular series. This volume contains 24 tracks compiled by Ady Croasdell and Dean Rudland and described generally as 'jazz, bluesy, latino grooves', mixing some classics with the usual selection of obscure grooves and potential classics of tomorrow.
That includes in-demand 45s by Reuben Wilson and Billy Larkin on Flodavieur , along with Frenchy and The Chessmen's rare Dave Hamilton productions, plus some lesser-known tunes from the Prestige label and the Nightbeats previously unreleased Leavin Town.
Full listing is below, with the album down for release on 26th Msy 2014. You can pre-order now from Amazon for £9.69
or you can order directly from Ace.
Tracklisting:
Another Child Lost – Floyd White
Dig In – The Pac-Keys
Hard Working Girl – Clarence Daniels & Obie Jessie
Bossa Baby – Googie Rene & His Combo
Hen House – Paul & Rick
Sister Sadie – Shirley Scott
Saturday Night Stomp – Eddie "Blues Man" Kirkland
Leavin' Town – The Nightbeats
Free For All – King Curtis
The Fat Man – T-K-O's
That's A Lie – Billy Larkin & His Orchestra
Watermelon Walk – The Five Counts
Congo Buggie – Freddy Washington's Band
Chili With Honey – Danny Bell & The Bell Hops
Poontwangie aka 3 O'Clock Stomp – B.B. King
Cooking In Grease – Reuben Wilson
Troubles – Bobby Jenkins & His Quartet
Sorry 'Bout That – Chuck Higgins
Comin' Home Baby – Eric Kloss
In The Dark – Dave Hamilton
Bucket Full Of Soul – Trudy Pitts
Nature Boy – Etta Jones
You Were Wrong – The Miles Grayson Trio
El Tacos – Frenchy & The Chessmen