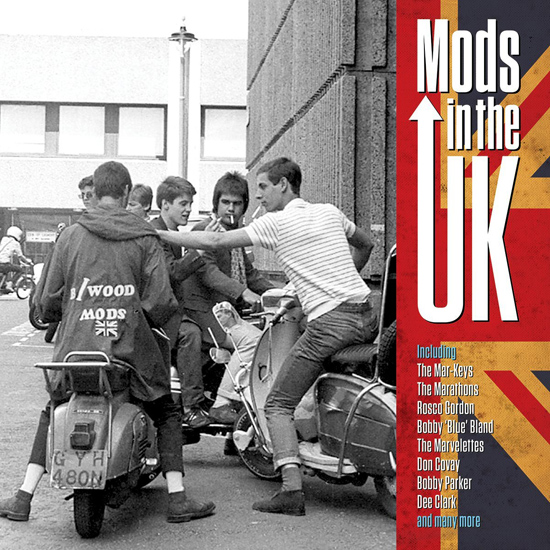 Nothing new here, but Mods In The UK is worth a mention purely because it has price on its side.
This is a new / upcoming compilation album from Not Now Music. The only thing I know about that particular label is that it tends to be behind mod and soul budget compilations and box sets, including the likes of Mod Rhythm and Blues, A Shot of Rhythm and Blues and Mod From The Jazz Side for example. The common theme there is pack in plenty of tracks and keep the price rock bottom.
This is a slightly different tact, as it isn't a budget CD collection. This time the label has gone down the heavyweight vinyl route. Although it is budget and the tracks are once again the kind of thing you would generally expect on a mod compilation of this type. Not 'bang obvious' tracks (well, apart from a couple), but not particularly rare tunes either. See what you think with the track listing below.
As I said at the start, this album does have price on its side when you consider it is a heavyweight vinyl release, although there is no mention of any kind of remastering. So take that into consideration. That price? You can pre-order now for £10.67 ahead of the 20th April 2018 release date.
Find out more at the Amazon website
Track listing:
1. Last Night – The Mar – Keys
2. Just A Little Bit – Rosco Gordon
3. Watch Your Step ~ Bobby Parker
4. When You See Me Hurt – Carl Lester & The Showstoppers
5. Hurricane – Dave 'Baby' Cortez
6. (Do The) Mashed Potatoes – Nat Kendrick & The Swans
7. Turn On Your Love Light – Bobby 'Blue' Bland
8. If You Gotta Make A Fool Of Somebody – James Ray
9. I Like It Like That – Chris Kenner
10. Please Mr. Postman – The Marvelettes
11. The Mountain's High – Dick & Dee Dee
12. Pony Time – Don Covay & The Goodtimers
13. Hey Little Girl – Dee Clark
14. Buttered Popcorn – The Supremes
15. You Can't Sit Down – Phil Upchurch Combo
16. Peppermint Twist – Joey Dee & The Starliters
17. Volcano – Billy Preston
18. Searchin' – The Coasters
19. Sweets For My Sweet – The Drifters
20. Peanut Butter – The Marathons