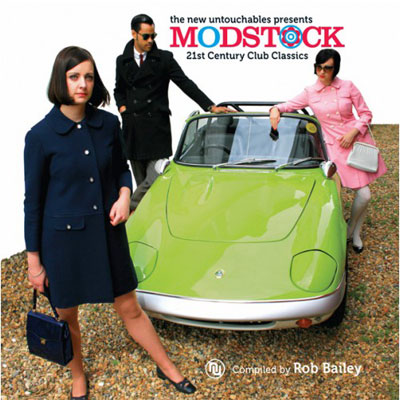 Not just an event, Modstock is going to be an album too, with the New Untouchables' Rob Bailey compiling a collection, which will be released via Detour Records.
It's a limited edition release, described as 'future mod club hits, records that are just as good as the established scene classics but in many cases have never been compiled before'. Most are from small and obscure labels, all have been restored and mastered, then sequenced 'like a fast-moving D.J. set'. The CD also has five studio bonus tracks (including some exclusives) from bands who appeared live at Modstock, finished off with a colour CD booklet with images, artwork, artist info and track commentaries.
CD tracklisting is below. If you want to order the CD, it's available directly from the New Untouchables as a pre-order (the release date is 24th April 2014) for £12.99 on CD or vinyl, with Amazon doing pre-orders for the download album for £7.49
.
Tracklisting:
1. It's Gonna Rain – Gentleman June Gardner
2.Too Far To Turn Around – The Sty-Letts
3. I Ain't Gonna Take You Back – Brenda Holloway And The Carrolls
4. I Don't Know Why – The Gass
5. Shotgun – Johnny Deen And The Deacons
6. Take A Look At Me – The Mergers
7. Love's A Workin'- Dean Carter
8. I Fell In Love (For The Very First Time) – The Undertakers
9. Line And Track – The Aquamen
10. All The Rage – Secret Affair
11. Emily's Gone – The Apemen
12. Madison Agent 005 – Les Cappuccino
13. The Love I Need – Frank Butler
14. Please Grow Up – Harlem Kiddies
15. Step Down – The Ranglers
16. Voo Doo Man – Quartet Tres Bien
17. Hey Hey Gypsy Woman – Teddy Mack And The Mackinteers
18. Nicky's At The P.C.- The J.J.Band
19. Baby Shake Your Whoop Whoop – The St James Group
20. You Know You Turn Me On – The Monzas
21. The Right Place At The Right Time – The Stone Foundation