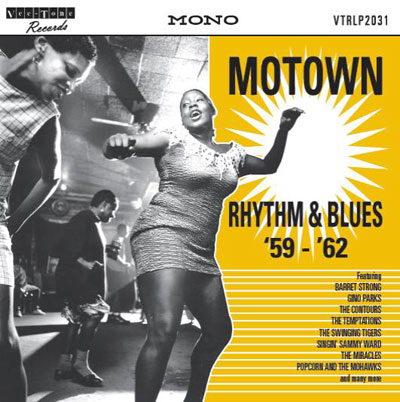 It's Motown, but perhaps not the usual compilation fayre on Motown Rhythm & Blues '59-'62, which is released on Vee-Tone.
It's a limited edition release, with just 500 copies available on the first pressing, each one a deluxe 180g vinyl collector's edition. On top of that owners, get access to free bonus tracks too. But that's just a bonus on top of the album itself.
That's described as '16 slices of raucous Rhythm & Blues' that showcase the foundations of what went on to become the 'Motown Sound', taken from Motown and sister labels Tamla, Miracle and MEL-O-DY, all compiled by Mark Lamarr and with sleevenotes from the very same man.
Tracklisting you ask? That's below. If you want it, Amazon.co.uk are doing pre-orders or you can get it directly from Vee-Tone, which is also taking orders for £18.99 plus postage. Release date is 4th November 2013.
Tracklisting:
Side One:
Money (That's What I Want) – Barrett Strong
Fire – Gino Parks
Whole Lotta Woman – The Contours
Romance Without Finance – The Temptations
Snake Walk (Part One) – The Swinging Tigers
Big Joe Moe – Singing' Sammy Ward
Mighty Good Lovin' – The Miracles
Shimmy Gully – Popcorn and the Mohawks
Side Two:
For This I Thank You – Gino Parks
Money (That's What I Want) – Richard Wylie and His Band
Oh Lover – Sherri Taylor and Singin' Sammy Ward
Show Me Some Sign – Charters
Same Thing – Gino Parks
Tie Me Tight – Bob Kayli
Isn't She Pretty – Temptations
Depend On Me (second version) – The Miracles