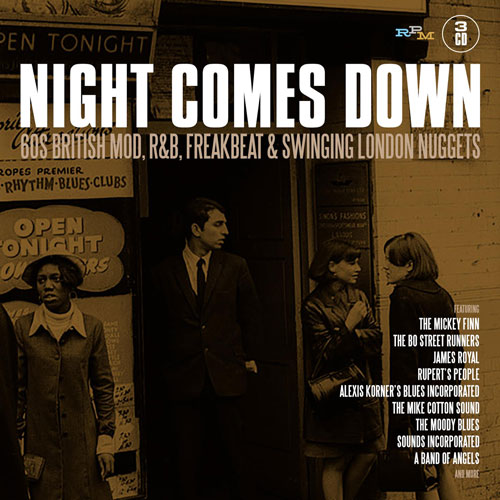 Cherry Red always does a good box set, so I've high hopes for Night Comes Down – 60 mod, R&B and freakbeat London nuggets.
Just up for pre-order and landing in May via the RPM label, this is a three-CD set that follows in the footsteps of the excellent Looking Back and Keep Looking' boxes, covering a range of musical styles under the mod umbrella.
Across the three CDs you get the 'gutsy yet jazzy R&B' which opens disc one, along with horn-laden Brit Soul (Norma Lee, The Brothers Grimm), fuzzy Freakbeat (Favourite Sons, The Tomcats, The In Crowd), Femme Pop (Twiggy, Twinkle), and groovy Loungecore (Mark Wirtz and Les Reed's British Lion Orchestra).
Disc 3 reflects the influence of Psychedelia, as Swinging London became multi-coloured, with assorted treats from The Alan Bown, The Mike Stuart Span and The Spectrum to name just a few.
As an added bonus, many tracks here are making their official debut on CD, including rarities by The Gnomes Of Zurich, Kevin 'King' Lear, Dominic Grant, The Shadrocks, The Reaction, Al Saxon, The Hammers and more.
The deluxe clamshell package includes a 'weighty' booklet full of illustrations, along with a 12,000-word sleevenote that doubles as a detailed summary of all 87 tracks on offer.
Fancy one? It lands on 26th May 2017 but is available to pre-order right now. The three-disc set sells for £18.70. Track listing below.
Find out more about the CD set at the Amazon website
Track listing:
Disc: 1
1. MAMA (HE TREATS YOUR DAUGHTER MEAN) – Lita Roza
2. I NEED YOUR LOVING – Ronnie Jones & The Night-Timers
3. BABY, DONâ™T DO IT – Laurel Aitken
4. TABOO MAN – Alexis Korner'™s Blues Incorporated
5. PILLS – Mickey Finn & Blue Men
6. WORK SONG – James Royal
7. SEVENTH SON – The Second Thoughts
8. COMIN♠HOME BABY – The Mark Wirtz Orchestra & Chorus
9. ITâ™S A LIE – Philip Goodhand-Tait & The Stormsville Shakers
10. AND I DO JUST WHAT I WANT – The Bo Street Runners
11. AND MY BABYâ'S GONE – The Moody Blues
12. LIKE THAT – Mike Cotton Sound
13. GONNA MAKE A WOMAN OF YOU – A Band Of Angels
14. SHE'S A GIRL – The Attraction
15. IT'™S ALRIGHT – The Rocking Vickers
16. READY, STEADY – The Clockwork Oranges
17. CAN YOU HEAR ME – CAN YOU HEAR ME -" The Cymbaline
18. A TU VERA – The Tomcats
19. I AIN'™T GOT YOU – Five'™s Company
20. THE SNAKE – Kevin '˜King'™ Lear
21. JUGGER TEA – Oliver Bone
22. DON'T THAT BEAT THEM ALL – Just Five
23. NO OTHER BABY – Chad & Jeremy
24. GOTTA GET THROUGH TO YOU – Eden Kane
25. BIG FAT SPIDER – Heinz
26. YOU'RE GONNA GET YOUR WAY – Glenda Collins
27. WHAT AM I DOING HERE WITH YOU – Twinkle
28. ROLLING ON – Norma Lee
29. THE OTHER SIDE OF LOVE – The Caravelles
30. TIME IS ON MY SIDE – Four + One
Disc: 2
1. NIGHT COMES DOWN – Mickey Finn
2. SHORT CHANGE – Spencer Davis Group
3. BIG BARE BEAT – The British Lion Orchestra
4. PHONE ME – Robb And Dean Douglas
5. MY LOVE – Ronnie Jones
6. THE SOCIETY FOR THE PROTECTION OF LOVE – The Stormsville Shakers
7. WHAT'S HER NAME – Guy Darrell
8. COUNT ME OUT – Kevin 'King' Lear
9. CAN"T STOP TALKIN' ABOUT MY BABY – Mike Patto
10. SOUL SERENADE – The Mike Cotton Sound
11. KNOCK ON WOOD – Oliver Bone
12. JUST ONE MORE CHANCE – The Outer Limits
13. DON'T STOP GIRL – Dominic Grant
14. WHEN I THINK OF YOU – Twiggy
15. YEH YEH – The Mark Wirtz Orchestra & Chorus
16. THAT DRIVING BEAT – The Favourite Sons
17. BLOW UP – The In Crowd
18. PARTY LINE – The Attraction
19. ARTHUR GREEN – Andy Ellison
20. CYPRESS (PREVIOUSLY UNISSUED) – The Truth
21. SINK OR SWIM – Circus
22. SHE WAS REALLY SAYING SOMETHING – Doc Thomas Group
23. TAKE ME FOR A LITTLE WHILE – Rusty Harness
24. BABY AND ME – The Hammers
25. GOING GOING GONE – Mike Hurst & Mike Dâ™abo
26. THERE IS – The Shadrocks
27. AFRODISIAC – The Web
28. FALLING IN LOVE WITH YOU – The Reaction
29. EAST SIDE 628 – Al Saxon
30. A MAN NEEDS LOVE – The Brothers Grimm
Disc: 3
1. GIRL ON A MOTORCYCLE – The British Lion Orchestra
2. THE EAGLE FLIES ON FRIDAY – The Exceptions
3. LONDON BRIDGE IS COMING DOWN – The Spectrum
4. ELEVATOR – Grapefruit
5. PEACOCK DRESS – Sun Dragon
6. LOOKING TOWARDS THE SKY – Davey Payne & The Medium Wave
7. VIOLIN SHOP – The Alan Bown
8. REMEMBER THE TIMES – Mike Stuart Span
9. HOLD ON – Rupert's People
10. GIVE WHAT YOU TAKE (DEMO) – The Lomax Alliance
11. SECOND FIDDLE – The Gnomes Of Zurich
12. Iâ™VE GOT MONEY – The Crazy World Of Arthur Brown
13. COME AND PLAY WITH ME IN THE GARDEN – John™s Children
14. FIRE IN THE CITY – The Deviants
15. SUNSHINE SUPERMAN – Big Jim Sullivan
16. TOMORROW NEVER KNOWS – The Mirage
17. FLOWERS ARE FLOWERING (DEMO) – The 23rd Turnoff
18. MR. UNIVERSE – Episode Six
19. I DON'T MIND – Fat Mattress
20. HOW DO YOU FEEL – Sounds Incorporated
21. INFATUATION – The Secrets
22. CALL ME LIGHTNING – The Good Vibrations
23. MAE WEST – Ken Moule'™s London Jazz Chamber Group
24. PUMPKIN MINI – Katch 22
25. EINER KLEINER MISER MUSIK – Tony Rivers & The Castaways
26. THANK YOU BABY FOR COMING – The Matchmakers
27. THE MEANING OF LOVE – Putney Bridge
Save