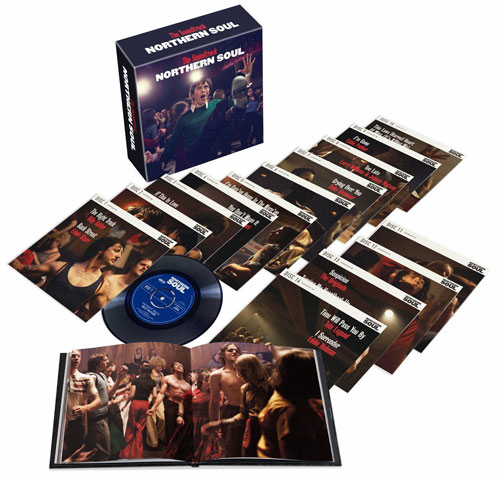 Still no idea when the fill will be on general release, but the fact that this Northern Soul movie soundtrack 7-inch vinyl box set is out in September perhaps points to that being the approximate date.
Of course, the book is already out and a double CD with DVD
is also available to pre-order (again for September release), but the vinyl box for Elaine Constantine's movie seems like the thing to have.
According to the pre-release details, the Harmless label has licensed all the tracks from the soundtrack plus one bonus track for 14 x 7-inch discs, all in pic true sleeves featuring key scenes from the film. It also comes with a specially commissioned 60 page hardback-bound book of carefully selected film stills, which have been 'painstakingly edited and re-touched' by Elaine Constantine herself. All of that in a heavy duty collector's box.
Apparently if you bought originals of all the tracks featured, it would set you back around £35,260. Of course, reissues aren't anywhere those prices, but it is a way of getting the music on vinyl without the hefty outlay.
If the CD tracklisting corresponds to the vinyl, the tracks featured are all listed below, plus that extra 'mystery' track to round it up to 28. If you want to pre-order the vinyl box, it retails for £82.99.
Find out more at the Amazon website
Tracks:
1. Right Track – Billy Butler
2. Back Street – Edwin Starr
3. Soul Time – Shirley Ellis
4. I Gotta Find Me Somebody – The Velvets
5. If This Is Love – The Precisions
6. Seven Day Lover – James Fountain
7. You Don't Mean It – Towanda Barnes
8. The Night – Frankie Valli
9. I'm Com'un Home In The Morn'un – Lou Pride
10. (Just Say) You're Wanted And Needed – Gwen Owens
11. They'll Never Know Why – Freddy Chavez
12. Tear Stained Face – Don Varner
13. Crying Over You – Duke Browner
14. Exus Trek – Luther Ingram
15. Too Late – Larry Williams & Johnny Watson
16. Your Autumn Of Tomorrow – The Crow
17. I'm Gone – Eddie Parker
18. I Really Love You – The Tomangoes
19. This Love Starved Heart Of Mine (It's Killing Me) – Marvin Gaye
20. Stick By Me Baby – The Salvadores
21. Time – Edwin Starr
22. Come On Train – Don Thomas
23. Lonely For You Baby – Sam Dees
24. Gone With The Wind Is My Love – Rita & The Tiaras
25. Suspicion – The Originals
26. Turning My Heartbeat Up – The MVP's
27. Time Will Pass You By – Tobi Legend
28. To be confirmed