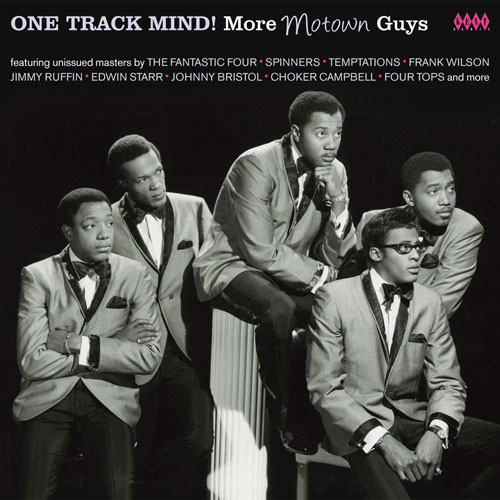 It looks like Ace Records has been into the Motown vaults once more, coming up with 24 tracks for the One Track Mind! More Motown Guys compilation.
This is the second in the series, with this one pitched as a 'dancefloor-centric selection of recent vault discoveries' from the men of 1960s Motown, including 17 previously unissued masters. Completists take note.
According to Ace, the scope is broad, from ' the joyous if primitive sound of Popcorn Wylie to the sophisticated soul of the Fantastic Four'. But one thing is for certain. If your feet love a bit of Motown, there's every chance that you will want this in the collection.
All the tracks listing below. The shelf date is 25th March 2016, with pre-orders available now for £13.24.
Find out more about the album at the Amazon website
Track listing:
1. I'll Be Satisfied – Frank Wilson
2. Where Are You – Ivy Jo
3. One Track Mind – Marv Johnson
4. Tell Me How To Forget A True Love – The Spinners
5. The Girl From Crosstown – Edwin Starr
6. Think It Over (Before You Break My Heart) – Earl Van Dyke & The Soul Brothers
7. I'd Rather Forget – The Temptations
8. Imagination Is Running Wild – The Spinners
9. The In Crowd – Jimmy Ruffin
10. Wish I Didn't Love You So – The Monitors
11. I'm Here Now That You Need Me – The Fantastic Four
12. Can't Stop This Feelin – Four Tops
13. My Oh My What A Groove – The Miracles
14. I Got Heaven Right Here On Earth (Alt) – The Temptations
15. The Touch Of Venus – Marvin Gaye
16. Head Over Heels In Love With You Baby – Edwin Starr
17. Heart To Heart – Earl Van Dyke & The Soul Brothers
18. Didn't I – The Hit Pack
19. Do You Wanna Go With Me – Marvin Gaye
20. I've Gotta Find Myself (A True Love) – The Miracles
21. It's All Right – Choker Campbell s Big Band
22. Kissing In The Shadows – Johnny Bristol
23. That Won't Do – Sammy Ward
24. Goose Wobbling Time – Popcorn Wylie