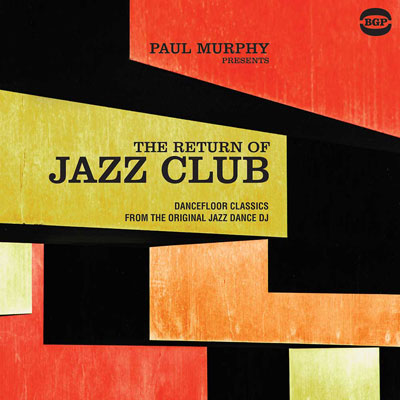 Liking the look of Paul Murphy Presents The Return Of Jazz Club, which is coming soon from BGP via Ace Records.
Paul Murphy was a pioneer in the 80s jazz dance scene, not least at the Wag Club's Jazz Room, music which later translated into the Jazz Club albums of predominantly 1960s-based jazz grooves. Dean Rudland, in his preview piece for the Ace site, quotes Gilles Peterson as saying: 'Paul Murphy found almost every jazz dancefloor classic.'
But he left that scene alone some years back – only now returning with this album, which showcases jazz grooves from the Prestige and Riverside catalogues and described as 'distinctive latin jazz from Art Farmer and Billy Taylor, a touch of vocal jazz from Eddie Jefferson and dancefloor-friendly blues-filled gems such a Bennie Green's 'Hi-Yo Silver'.' The booklet includes an introduction by Paul Murphy on his time DJing, plus flyers and other memorabilia from the original era.
Tracklisting is below, with the album available from Amazon on CD
for £9.77 (a little cheaper than Ace) or on vinyl from Ace directly for £14.19. Looks well worth seeking out.
Tracklisting:
1. St Thomas – Sonny Rollins
2. Manteca – The Red Garland Trio
3. By-Ya – Thelonious Monk Trio
4. Blue Stompin – Hal Singer With Charlie Shavers
5. Flying Home – Arnett Cobb
6. Hi-Yo Silver – Bennie Green
7. Grease Monkey – Kenny Burrell With The Brother Jack Mcduff Quartet
8. Spider Man – Freddie Mccoy
9. Pedro Stroller – Johnny Lytle
10. Parchman Farm – Mose Allison
11. Filthy Mcnasty – Eddie Jefferson
12. Mau Mau – The Art Farmer Septet
13. Mambo Inn – Billy Taylor Trio With Candido
14. Flatjacks (Just A Minor Bossa Nova) – Willie Rodriguez Jazz Quartet
15. Blue Gator – Willis Jackson