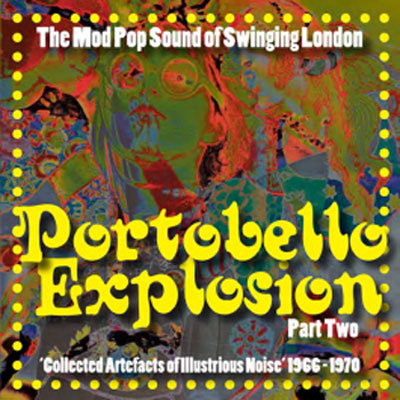 The first instalment was only released back in September, but we suspect it went down well as Portobello Explosion – The Mod Pop Sound of Swinging London Part Two is coming out soon.
Thanks to Mark Colley for flagging up the sequel, which seems to be down for a 27th January release, although one retailer is talking about shipping in 24 hours. Take your pick on that – we suspect it's out next week.
Anyway, it seems to be following similar ground to the first album, which means remastered beat and psych obscurities from the mid to late 1960s, throwing in a 16-page colour booklet, liner notes and photographs.
The tracklisting is below and if you want a copy Spin CD has it for £11.99, with Amazon.co.uk promising it from next week for just over £10.
Tracklisting:
Jigsaw Let Me Go Home 1968
Jason James Count Me Out 1967
Steve Hammond The World Is Wrapped Around My Neck 1966
Made In Sheffield Right Satisfied 1967
West Point Supernatural Night Train 1967
Studio Six People Say 1967
Peeps Tra La La 1966
Storm Let's Go Dancing 1969
Edentree You Are All I Need 1970
Pop Workshop Love Is A One Way Highway 1968
Mary Mccarthy You Know He Did 1967
Falling Leaves Tomorrow Night 1966
Jig-Saw Band I've Gotta Get Me Some Money 1968
The Mojos Seven Park Avenue 1968
Shere Khan No Reason 1969
Peeps The Loser Wins 1966
Edentree Call My Name 1970
Curiosity Shoppe So Sad 1968
The Executives I'll Always Love You 1967
Jigsaw Lollipop And Goody Man 1970