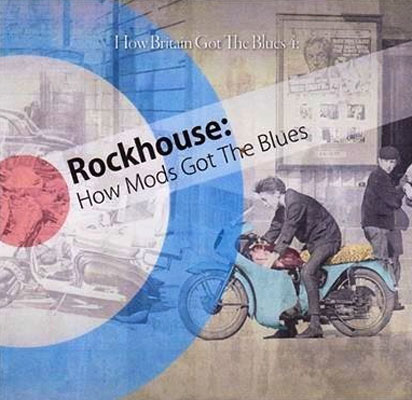 Doesn't look like it will be widely available, but the Rockhouse – How Mods Got The Blues compilation looks like it might be worth seeking out.
It's down as being released on October 28th, but you can pre-order it now at the History of RnB site if you are really keen, priced at £7.50, which looks great value.
According to the official write-up:
England. 1960. A new decade has dawned, but parents are breathing a sigh of relief as normality is restored. Only a few years ago, teenage menace had arrived on the back of Bill Haley and Elvis Presley. Cinemas were smashed, and juvenile delinquency soared, but now the flames of a rock'n'roll revolution have been quelled. Buddy Holly is dead. Elvis has been tamed by the army and is singing ballads. Chuck Berry is in jail. Tommy Steele and Cliff Richard have gone showbiz. Record sales are starting to fall as teenagers grow bored.
Small cliques, usually art student types, are demanding something more exclusive. Skiffle comes and goes, replaced by trad jazz, then folk. The music scene seems tame in comparison to the late 50s and something pretty spectacular is needed.
In 1962, four working class lads from Liverpool blow things wide open.
Playing a mixture of rock'n'roll and R&B, they give British youth something to think about. Ian 'Sammy' Samwell is first to play Love Me Do. Sammy is spinning discs at the Lyceum in London with a playlist of mainly imported American R&B. He is soon joined behind the decks by Jeff Dexter and between them they turn the Lyceum on the Strand into the first bona fide club for the emerging mod scene.
Here are some of those seminal records lovingly collected, together with notes by Smiler Anderson. (aka the man behind the Mods – The new Religion! book).
Want a tracklisting? See below. The collection packs a lot in.
Disc 1:
Rockhouse Ray Charles
Mashed Potatoes U.S.A. James Brown
One Mint Julep Sarah Vaughan
Lipstick Traces  Benny Spellman
Wade In The Water Johnny Griffin
Get On The Right Track Ray Charles
Parchman Farm Mose Allison
Night Train James Brown
Ooh Poo Pah Doo, Pt 1 Jessie Hill
Land Of 1000 Dances Chris Kenner
Come On, Pts. 1 & 2 Earl King
Sack Of Woe Ray Bryant Combo
Watermelon Man Mongo Santamaria
She Put The Hurt On Me Prince La La
The Seventh Son Mose Allison
Last Night The Mar-Keys
Sticks And Stones Ray Charles
Point of No Return Gene McDaniels
Shout and Shimmy James Brown
Shop Around The Miracles
Green Onions Booker T. & The MG's
Do Re Mi Lee Dorsey
Work Song Oscar Brown Jr.
Eso Beso  Paul Anka
I Believe To My Soul Ray Charles
I Don't Mind James Brown
Hitch Hike Marvin Gaye
Gin House Blues Nina Simone
Disc 2:
The Train Kept A Rollin' Johnny Burnette
I'm A Lover Not A Fighter Lazy Lester
I'm A Hog For You The Coasters
Jaguar And The Thunderbird Chuck Berry
She Said Yeah Larry Williams
You Need Love Muddy Waters
Mess Around Ray Charles
Daddy Rollin' Stone Otis Blackwell
Good Morning Schoolgirl Don & Bob
A Certain Girl Ernie K-Doe
Kansas City Wilbert Harrison
Looking Back Johnny Guitar Watson
My Babe Little Walter
Doctor Feelgood Dr Feelgood
Poison Ivy The Coasters
Road Runner Bo Diddley
You Better Move On Arthur Alexander
Do You Love Me The Contours
Bring It to Jerome Bo Diddley
Don't You Lie To Me Chuck Berry
(Night Time Is) The Right Time Ray Charles
Blue Monday Fats Domino
Rockin' Pneumonia Huey 'Piano' Smith
A Young Man  Mose Allison
Little Egypt The Coasters
C.C. Rider Chuck Willis
Casting My Spell Johnny Otis
I Put A Spell On You Screamin' Jay Hawkins
Let The Good Times Roll Louis Jordan
Any Day Now Chuck Jackson
Air Travel Ray & Bob
I've Got Love If You Want It Slim Harpo