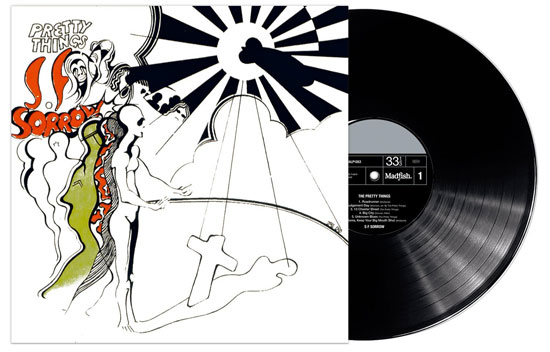 Another day, another tasty vinyl reissue, this time S.F. Sorrow by The Pretty Things, which returns via Madfish.
The classic psych album and arguably the group's finest work dates back to 1968 and is widely available already on other formats. But from 5th August, you can get the album once agin on 180g heavyweight vinyl.
Not only that, the album has been remastered from the original analogue tapes and features the original UK artwork gatefold sleeve, with cover art from band member Phil May. Basically it's the version to have.
You can pre-order it now ahead of that release date, £16.42 being the price. Track listing below.
Find out more at the Amazon website
Track listing:
Side one:
1. SF Sorrow Is Born ( 03:15 )
2. Bracelets Of Fingers ( 03:38 )
3. She Says Good Morning ( 03:30 )
4. Private Sorrow ( 03:50 )
5. Balloon Burning ( 03:49 )
6. Death ( 03:11 )
Side two:
1. Baron Saturday ( 04:02 )
2. The Journey ( 02:42 )
3. I See You ( 03:53 )
4. Well Of Destiny ( 01:46 )
5. Trust ( 02:47 )
6. Old Man Going ( 03:07 )
7. Loneliest Person ( 01:27 )