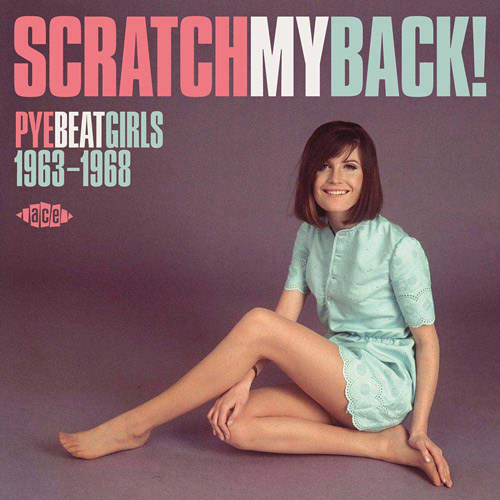 If you liked the sound of the Decca Beat Girls compilation from Ace, then you probably want to know more about Scratch My Back! Pye Beat Girls 1963-1968 from the same label.
Named after the Mark Wirtz-produced opening track by Jan Panter, the album is compiled  by Mick Patrick and is a collection of the best female talent from London's Pye Stable (and its associated Piccadilly label). A total of 24 tracks make the cut.
As well as Mark Wirtz, there are productions from Tony Hatch, the most successful of Pye's in-house producers with the likes of the Breakaways, Petula Clark (with 'Heart' which was later covered by US garage band The Remains), Sandra Barry, the Baker Twins and Julie Grant.
Also here is The Satin Bells' English language cover of French yé-yé girl France Gall's 'Da-Di-Da-Da', Billie Davis' 'Ev'ry Day' and 'Come On Baby' by Kim D. Full track listing below, with a shelf date of 29th April 2016. If you want to pre-order, it retails for £11.89.
Find out more at the Amazon website
Track listing:
1. Scratch My Back – Jan Panter
2. Ev'ry Day – Billie Davis
3. Come On Baby – Kim D
4. Now That You've Made Up Your Mind – Val McKenna
5. He Doesn't Love Me – The Breakaways
6. Heart – Petula Clark
7. It's Hard To Believe It – Glenda Collins
8. Run – Sandie Shaw
9. Something To Give – Nita Rossi
10. Da-Di-Da-Da – The Satin Bells
11. We Were Lovers (When The Party Began) – Sandra Barry
12. I Got A Feeling – Tawny Reed
13. Why Don't I Run Away From You – Antoinette
14. Nobody Knows What's Goin' On (In My Mind But Me) – Tammy St John
15. Incense – Sheila Carter & Episode Six
16. Pay You Back With Interest – Dana Gillespie
17. Well How Does It Feel – Barbara Ruskin
18. I've Found Love – Sharon Tandy
19. It's So Fine – Dee King
20. He Knows I Love Him Too Much – Glo Macari
21. He's No Good – The Baker Twins
22. Don't Lie To Me – Jeannie & The Big Guys
23. I Only Care About You – Julie Grant
24. Hippy Hippy Shake – Pat Harris & The Blackjacks