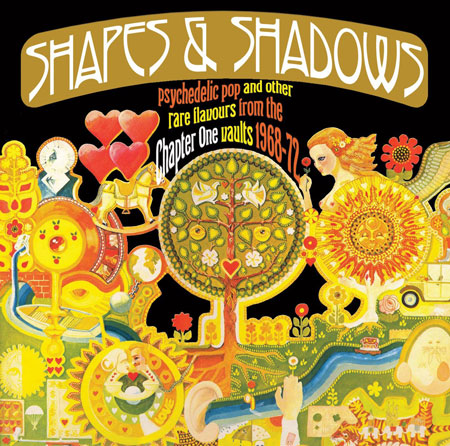 If the latter part of the 1960s is your bag music-wise, you might want to check out Shapes & Shadows – Psychedelic Pop And Other Rare Flavours From The Chapter One Vaults 1968-72.
It's another Cherry Red collection, this one via the Grapefruit imprint and a single disc collection of 26 tracks. According to the write-up, the Chapter One label, founded by songwriter Les Reed in 1968, had a couple of minor hits, but is perhaps more interesting for its misses – music that is now in serious demand from collectors and has cropped up on compilations of late in bits and pieces.
Now there's a dedicated set, taken from the masters and with the full co-operation of Les Reed and Chapter One. You can check out the tracklisting below, with the album released on 22nd September (but available to order now) for £10.99.
Find out more at the Amazon website
Tracklisting:
1. What's It All About – PUTNEY BRIDGE
2. Lucky Sunday – EPISODE SIX
3. Lifetime – THE BLISS
4. The Elephant Song – PHILWIT & PEGASUS
5. Spring Never Came Twice – JASON CORD
6. Mozart Versus the Rest – EPISODE SIX
7. Your Turn to Die – PUTNEY BRIDGE
8. The Race – CHRISTOPHER
9. Turn Around – SAD PEOPLE
10. Lovers' Congregation – THE MATCHMAKERS
11. You've Got Your Troubles – THE CALIFORNIANS
12. Mr Universe – EPISODE SIX
13. Sharkey – CHRISTOPHER
14. Cry My Heart – THE MARCH HARE
15. Marjory Daw – MORNING GLORY
16. Courtyards of Castile – THE BLISS
17. Brother John – BROTHER JOHN
18. Lonely Man – SAD PEOPLE
19. Jack D'or – EPISODE SIX
20. The Meaning of Love – PUTNEY BRIDGE
21. Thank You Baby for Coming – THE MATCHMAKERS
22. Munday Street – MORNING GLORY
23. With My Eyes Closed – THE MARCH HARE
24. Gentlemen of the Park – EPISODE SIX
25. Big Bare Beat – LES REED
26. Shapes and Shadows – TANDEM