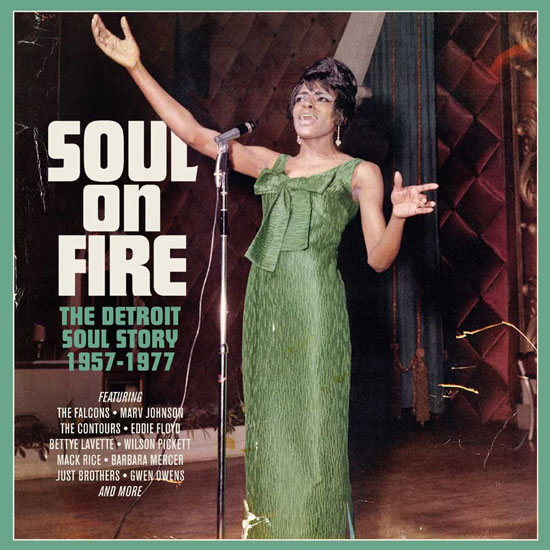 Cherry Red has a clutch of interesting boxes coming out before the end of the year, including Soul On Fire – The Detroit Soul Story 1957-1977 on its Soul Time label.
There is the obvious exclusion of Motown, which is perhaps down to rights and because the label's archives have been done to death. But there are some connections to the iconic label, as you might expect over the 86 tracks / three CDs.
Overall, this is billed as a set of rare and collectable early Detroit Soul productions, celebrating some of the more obscure recordings from the Motor City, with seven previously unissued recordings and over 20 tracks new to CD.
It is made up of classic recordings from the vaults of Lu Pine, Sidra, Impact and other highly regarded Detroit labels of the 60s and includes some of the earliest recordings of Wilson Pickett, Eddie Floyd and Bettye LaVette, as well as future Motown stars The Supremes (as The Primettes), Marv Johnson, The Contours and Brian Holland. Northern Soul classics by the likes of Mr. Flood's Party, Just Brothers, The Precisions, Gwen Owens, The Falcons and Fork In The Road too.
A deluxe 36 page booklet offers fully detailed historical notes, which 'tell an alternative history of black music out of Detroit to that of the more familiar Motown'.
If you like your classic soul, it looks like one to own. The box set lands on 24th November 2017 but you can pre-order now, with the three-disc box selling for £19.25. Tracks below.
Find out more at the Amazon website
Track listing:
DISC ONE:
1. SENT UP – The Falcons
2. THIS HEART OF MINE – The Falcons
3. IT'S ALL MY FAULT – Billy Kope & The Quardells
4. ONCE UPON A TIME – Marv Johnson
5. SEARCHING FOR MY BABY – Joltin' Joe Howard
6. (WHERE'S THE JOY?) IN NATURE BOY – Briant Holland
7. LOVE IN YOUR LIFE – The Tornados
8. MY MAN – Delores Maxwell
9. YOU'RE SO FINE – The Falcons
10. YOU MUST KNOW I LOVE YOU – The Falcons
11. LET ME – Sunnie Elmo & Minor Chords
12. HONG KONG – Don Juan And The Vulcans *
13. WHAT ARE THEY DOIN' UPSTAIRS – The Minor Chords *
14. I'M SAVING MY LOVE – The Minor Chords *
15. I LOVE THE WAY YOU LOVE – Marv Johnson & The Rayber Voices
16. POW! YOU'RE IN LOVE – The Falcons
17. I'M SO GLAD YOU'RE MINE – Willie Hamilton
18. HARD TIMES – The Majestics
19. EXPLAIN TO JANE – Knighthawks
20. YOU DID – Knighthawks
21. I FOOL YOU – The Fabulous Playboys
22. HURRY – ARTHUR MURRAY – The Sax Kari Show featuring The Newports
23. WHOLE LOTTA WOMAN – The Contours
24. HONKEY TONK WOMAN – The Fabulous Playboys
25. TEARS OF SORROW – The Primettes (aka The Supremes)
26. I'LL GET ALONG – Al Garner
27. I FOUND A LOVE – The Falcons
28. HE'S SO FINE – The Corvells
29. WHY CAN'T I HAVE YOU – The Fourmost
30. I GOT THE BLUES – Gene Martin
DISC TWO:
1. SENT UP – The Falcons
2. THIS HEART OF MINE – The Falcons
3. IT'S ALL MY FAULT – Billy Kope & The Quardells
4. ONCE UPON A TIME – Marv Johnson
5. SEARCHING FOR MY BABY – Joltin' Joe Howard
6. (WHERE'S THE JOY?) IN NATURE BOY – Briant Holland
7. LOVE IN YOUR LIFE – The Tornados
8. MY MAN – Delores Maxwell
9. YOU'RE SO FINE – The Falcons
10. YOU MUST KNOW I LOVE YOU – The Falcons
11. LET ME – Sunnie Elmo & Minor Chords
12. HONG KONG – Don Juan And The Vulcans *
13. WHAT ARE THEY DOIN' UPSTAIRS – The Minor Chords *
14. I'M SAVING MY LOVE – The Minor Chords *
15. I LOVE THE WAY YOU LOVE – Marv Johnson & The Rayber Voices
16. POW! YOU'RE IN LOVE – The Falcons
17. I'M SO GLAD YOU'RE MINE – Willie Hamilton
18. HARD TIMES – The Majestics
19. EXPLAIN TO JANE – Knighthawks
20. YOU DID – Knighthawks
21. I FOOL YOU – The Fabulous Playboys
22. HURRY – ARTHUR MURRAY – The Sax Kari Show featuring The Newports
23. WHOLE LOTTA WOMAN – The Contours
24. HONKEY TONK WOMAN – The Fabulous Playboys
25. TEARS OF SORROW – The Primettes (aka The Supremes)
26. I'LL GET ALONG – Al Garner
27. I FOUND A LOVE – The Falcons
28. HE'S SO FINE – The Corvells
29. WHY CAN'T I HAVE YOU – The Fourmost
30. I GOT THE BLUES – Gene Martin
DISC THREE:
1. I DON'T WANT NO PART-TIME LOVE – Wilson Pickett & The Falcons
2. TASTIE – PART 1 – T.J. Fowler
3. IF YOUR LOVE IS REAL – Matthew Barnett
4. WHIP YOUR LOVING ON ME – Tony & Tyrone (Alias T 'N' T)
5. HEY BLACK MAN – Ed Robinson
6. I CAN'T TURN AROUND – Fork In The Road
7. MY OWN SPECIAL WAY -The Jones Girls
8. COMPARED TO WHAT – Mr. Flood's Party
9. WHY CAN'T THERE BE LOVE – Dee Edwards
10. MONEY CAN'T – The Turn Of The Century
11. SAY IT AGAIN WITH FEELING – Dee Edwards
12. IF MY HEART WAS AN OPEN BOOK – Third Demetion
13. UP IN THE SUN – Albert Jones
14. NEED YOUR LOVE – The Notations
15. MR. SOUL SATISFACTION – Timmy Willis
16. LET MY BABY GO – The Embraceables
17. CALL ON ME – Barbara Mercer
18. IF THIS IS LOVE (I'D RATHER BE LONELY) – The Precisions
19. JUST SAY YOU'RE WANTED (AND NEEDED) – Gwen Owens
20. (I'M A FOOL) I MUST LOVE YOU – The Falcons
21. GOOD, GOOD FEELING – The Falcons
22. I TALK TOO MUCH – Eddie King
23. OPEN THE DOOR TO YOUR HEART – Sonny Munro
24. FOR THE FIRST TIME IN MY LIFE – Michael Valvano
25. GOTTA FIND A WAY TO GET BACK HOME – Innervision
26. OH, HOW HAPPY – Shades Of Blue