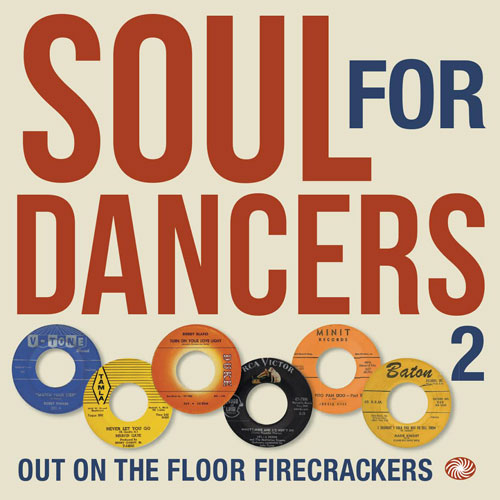 Do you remember the original Soul For Dancers collection from last year? Well, it proved pretty popular – popular enough for Soul For Dancers 2 to become reality on the Fantastic Voyage label.
Once again, this is a CD and vinyl release, with the limited edition vinyl offering 32 'highlights' over two albums, while the CD goes further with 60 tracks over two discs.
As for content, well that's much the same in style, with Lois Wilson once again digging out early soul and proto-soul rhythm & blues that wouldn't have been out of place on the sixties club scene.
This time there's a trip to New Orleans (including a sequence of Chris Kenner, Jessie Hill and Lee Dorsey) and plenty of big names once again represented, including Arthur Alexander, Bobby Bland, The 5 Royales, Solomon Burke, James Brown and Ike & Tina Turner, not to mention Etta James, Tiny Topsy, Della Reece and Ruth Brown and labels such as Minit, Tamla, Atlantic and Stax.
The vinyl track listing is below. As for price, the CD set is £8.99 and the vinyl is £14.99. Both are released on 26th February 2016 and available to pre-order now.
Find out more about the vinyl at the Amazon website
Find out more about the CD at the Amazon website
Track Listing:
SIDE ONE
1. Bobby Bland – Turn On Your Lovelight
2. Bobby Parker – Watch Your Step
3. Gino Parks – Same Thing
4. Chris Kenner – Land Of 1000 Dances
5. Lee Dorsey – Behind The Eight Ball
6. Jessie Hill – Ooh Poo Pah Doo Pt.1
7. Jessie Hill – Ooh Poo Pah Doo Pt.2
8. Solomon Burke – Down In The Valley
SIDE TWO
1. Rosco Gordon – Just A Little Bit
2. James Brown – Good Good Lovin'
3. 5 Royales – Don't Give Me No More Than You Can Take
4. Marvin Gaye – Never Let You Go
5. Ann Cole – You're Mine
6. Etta James – Baby, Baby Every Night
7. The Chips – You Make Me Feel So Good
8. Barbara Stephens – Wait A Minute
SIDE THREE
1. Della Reece – Ninety Nine And A Half Won't Do
2. Ann Cole – Each Day
3. Lula Reed – You Gotta Have That Green
4. Marie Knight – I Thought I Told You Not To Tell Them
5. Timmy Shaw – A Letter From My Baby
6. Earl King – Trick Bag
7. Lloyd Price – Rainbow Joe
8. Arthur Alexander – You Better Move On
SIDE FOUR
1. Ike And Tina Turner – Worried And Hurtin' Inside
2. Patience Valentine – If You Don't Come You Better Call
3. Betty O' Brian – She'll Be Gone
4. Tiny Topsy – Aw Shucks Baby
5. Ruth Brown – As Long As I'm Moving
6. Lula Reed – What Makes You So Cold
7. JJ Barnes – Won't You Let Me Know
8. The Sims Twins – Don't Fight It, Feel It