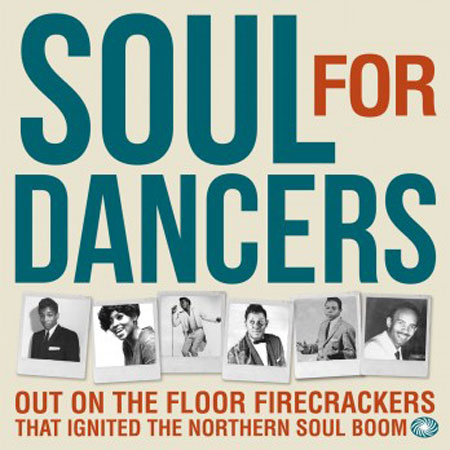 Not much to add to the title really, as Soul For Dancers – Out On The Floor Firecrackers That Ignited The Northern Soul Boom (Fantastic Voyage) pretty much covers it.
But we'll add some details in anyway.
Journalist and collector Lois Wilson is taking a look back at the roots of the rare soul scene, taking in 57 tracks over two discs and featuring tunes that were likely to have been heard at both the iconic Scene Club in London, as well as the equally revered Twisted Wheel in Manchester, both precursors to the likes of the Wigan Casino, Blackpool Mecca and The Golden Torch.
Some tracks here were obscure back in the day,but are crowd pleasers today, others a little less known. But all have one thing in common – they are dance floor gold.
The CD version of this comes out on 16th October (but is available to pre-order now), with a A double LP edition with 32 'highlights' also being released at some point, including an illustrated, annotated insert.
The CD retails for £8.99, which isn't bad considering the number of tracks.
Find out more at the Amazon website
Tracklisting:
Disc 1:
1. Tell The Truth (Ray Charles)
2. Respectable (The Isley Brothers)
3. A Shot Of Rhythm And Blues (Arthur Alexander)
4. See About Me (Don Covay and The Goodtimers)
5. Won't Be Long (Aretha Franklin)
6. Fortune Teller (Benny Spellman)
7. Yield Not To Temptation (Bobby Bland)
8. My Book (Bruce Cloud)
9. And I Do Just What I Want (James Brown)
10. Leave My Kitten Alone (Little Willie John)
11. Hide And Go Seek, Part 1 (Bunker Hill)
12. Hide And Go Seek, Part 2 (Bunker Hill)
13. Every Dog Got His Day (Eddie Bo)
14. I Need Your Loving (Don Gardner and Dee Dee Ford)
15. Say You Love Me (Harold Burrage)
16. You Don't Love Me (Willie Cobbs)
17. Farther Up The Road (Bobby Bland)
18. Catch That Teardrop (The 5 Royales)
19. The Pick-Up (Etta James)
20. Let Love Go By (Jeanette Baby Washington)
21. Am I The Man (Jackie Wilson)
22. Baby (You've Got What It Takes) (Dinah Washington and Brook Benton)
23. I Love The Way You Love (Marv Johnson)
24. Having A Party (Sam Cooke)
25. Goin' Home (Mary Johnson)
26. No More Pain (Sam & Dave)
27. Soul (The Great Nathaniel)
28. You Better Know It (Jackie Wilson)
29. Tell Me What You're Gonna Do (James Brown and The Famous Flames)
30. Do You Think That's Right (Judy Clay)
Disc 2:
1. Do You Love Me (Little Willie John)
2. Mama Get Your Hammer (Bobby Peterson Quintet)
3. All Nite Long, Part 1 (Robert Parker)
4. All Nite Long, Part 2 (Robert Parker)
5. Pop-Eye Stroll (The Mar-Keys)
6. Don't You Worry (Don Gardner and Dee Dee Ford)
7. The Headshrinker (Johnnie Mae Matthews)
8. Screaming Please (Buddy Ace)
9. Hide 'Nor Hair (Ray Charles)
10. Chills And Fever (Ronnie Love)
11. You Better Come Home (The Isley Brothers)
12. You Talk About Love (Barbara George)
13. You Should'a Treated Me Right (Ike and Tina Turner)
14. My Man Rockhead (Eloise Carter)
15. A Good Man (Irma Thomas)
16. Soothe Me (The Sims Twins)
17. Sixty-Minute Man (The Dominoes)
18. Broken Heart (The Fiestas)
19. Hard Hearted Woman (Eddie Burns)
20. Whip It On Me (Jessie Hill)
21. Linda Lou (The Traits with Roy Head)
22. Little Baby (Howlin' Wolf)
23. I Don't Play (Little Walter)
24. I Need Somebody (Little Milton)
25. Sticks And Stones (Ray Charles)
26. One Man's Woman (Martha Carter)
27. Get Back (Jimmy McCracklin)