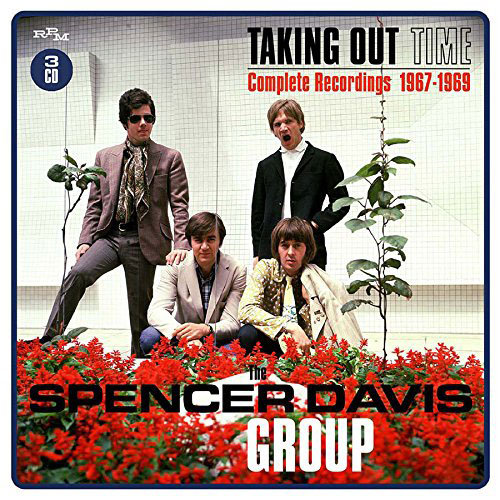 If you haven't bothered investigating the group post-Winwood, then now is your chance as the Spencer Davis Group Taking Time Out Complete Recordings 1967-1969 box set is heading your way via RPM.
It's a 'catch all' box of the band's later material, a mix of previously released material and rarities from the era, the latter including unreleased BBC sessions, live tracks alternate versions and other tracks from tape archives.
That's coupled with singles material, music produced for the film soundtrack of Here We Go Round The Mulberry Bush and album material from that era. Oh yes, there's also the theme to the TV show Magpie, which some of you of an age might well remember as being pretty wonderful.
All the tracks are listed below, with the release date down as 19th August 2016. You can pre-order the box set now though, with Amazon doing those pre-orders for £18.31.
Find out more about the box set at the Amazon website
Track listing:
Disc: 1
1. Time Seller
2. Don't Want You No More
3. Taking Time Out
4. Every Little Thing
5. Virginals Dream
6. Looking Back
7. Picture of Her
8. Just Like Me
9. Possession
10. Mr. Second Class
11. Sanity Inspector
12. After Tea
13. Moonshine
14. With His New Face on
15. Mr. Second Class
16. Alec in Transitland
17. Sanity Inspector
18. Feel Your Way
19. Morning Sun
20. Moonshine
21. Don't Want You No More
22. Time Seller
23. Stop Me, I'm Falling
24. After Tea
Disc: 2
1. (Aquarius) Der Wassermann
2. Let the Sun Shine in
3. Short Change
4. Picture of Heaven
5. I Met a Woman
6. Letters from Edith
7. Raintree River
8. What a Way to Die
9. Firefly (Alias Funky)
10. Magical Day
11. I Guess I'm Wasting My Time
12. Misguided (Alias Poor Misguided Woman)
13. And the Gods Came Down
14. New Hersey Turnpike
15. Magpie (the Murgatroyd Band)
16. Twice a Week (the Murgatroyd Band)
17. I'm Lost
18. Pools Winner
19. Groove Extra
20. The Girls Song
21. Aquarius/Let the Sun Shine in (Demo)
22. Feel Your Way (Backing Track)
Disc: 3
1. Feel Your Way
2. Morning Sun
3. Taking Out Time
4. Picture of Her
5. Just Like Me
6. Possession
7. Don't Want You No More (18.12.67)
8. Interview (18.12.67)
9. Mr. Second Class (18.12.67)
10. Time Seller (18.12.67)
11. Feel Your Way (17.1.68 )
12. Taking Out Time (17.1.68 )
13. Time Seller (17.1.68 )
14. Moonshine ( 11.3.68 )
15. Interview ( 11.3.68 )
16. After Tea ( 11.3.68 )
17. Feel Your Way ( 11.3.68 )
18. Dust My Blues ( 24.6.68 )
19. Interview ( 24.6.68 )
20. With His Face on ( 24.6.68 )
21. Mr Second Class ( 24.6.68 )
22. Dust My Blues