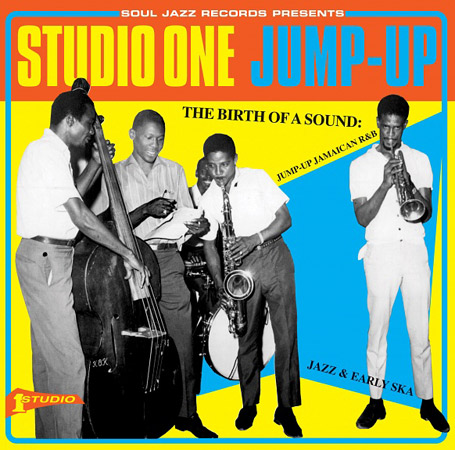 Interesting compilation landing next week, which is Studio One Jump Up – The Birth of a Sound: Jump-Up Jamaican R&B, Jazz and Early Ska on the Soul Jazz label.
Essentially this is the roots of the Studio One unique sound, mixing the first jump-up, boogie-woogie and shuffle recordings made in Jamaica in the late 1950s through to the rhythms of Count Ossie, the 'Baptist beat' of Toots and the Maytals and of course ska with tracks by the likes of Bob Marley and The Wailers and the Skatalites. So part history lesson, part document of an era and of course, a collection of the label's earliest output.
The track listing is below and the album is available on CD, heavyweight vinyl (with free download) and digital download. The CD is £11.99 and the double vinyl is £18.99.
Find out more about the CD at thr Amazon website
Find out more about the LP at the Amazon website
Studio One Jump-Up Track listing:
1. Basil Gabbidon – Mr. Landlord
2. Clue J And His Blues Blasters – Milk Lane Hop
3. Derrick Morgan – Wigger Wee Shuffle
4. Aubrey Adams & Rico Rodriguez – Stew Peas And Cornflakes
5. The Mello-Cat Count Ossie & His Warickers – Another Moses
6. Neville Esson – Wicked And Dreadful
7. Clue J And His Blues Blasters – Proof Rum
8. Derrick Morgan – Leave Earth
9.  Lord Creator – Rhythm Of The Blues
10. The Jivin' Juniors – Hip Rub
11. Lascelles Perkins – Little Joe
12. Don Drummond & Roland Alphonso – Heaven And Earth
13. Owen Gray – Walk All Over
14. David Brown – Pretty Baby
15. The Maytals – He Will Provide
16. Lester Sterling And The City Slickers – Whale Bone
17. Jackie Opel – Sit Down Servant
18. Roland Alphonso – Bongo Tango
19. Bob Marley And The Wailers – Go Jimmy Go
20. Clue J And His Blues Blasters – The Slider