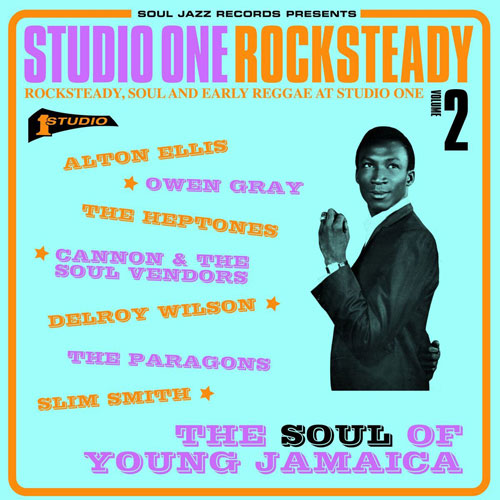 Take your pick of CD or vinyl for the Studio One Rocksteady 2: The Soul Of Young Jamaica release from Soul Jazz.
Yes, another trip into the vaults of Clement Dodd's Studio One, this time picking out some choice rocksteady cuts from the late 1960s, sneaking into the early 1970s.
Artists such as Delroy Wilson, Alton Ellis, Slim Smith, The Heptones (doing Bob Dylan's 'I Shall Be Released') and John Holt appear here (full track listing is below), with the set beefed up by sleevenotes by the one and only Steve Barrow. Basically, if rocksteady is your bag, this is well worth checking out.
It lands on 27th January 2017, with the option of either the CD or the vinyl.£12.99 for the CD and £24.99 for the double vinyl set.
Find out more about the CD at the Amazon website
Find out more about the vinyl at the Amazon website
Tracklisting:
1. Sitting in the Park – Hortense Ellis
2. Rub Up Push Up – The Termites
3. Never Let Go – Carlton And The Shoes
4. I'm Still in Love With You – Alton Ellis
5. Give Me a Little Sign – Owen Gray
6. Big Mistake – The Bassies
7. Breaking Up Is Hard to Do – Alton & Hortense Ellis
8. Born to Love – Slim Smith
9. Bad Treatment – Cannon & The Soul Vendors
10. Strange Things – John Holt
11. Giddy Up – The Actions
12. It Makes Me Feel – Larry Marshall
13. Change Your Style – The Paragons
14. Trying Times – Jerry Jones
15. I Shall Be Released – The Heptones
16. The Soul Beat – The Gaylads
17. Run Run – Delroy Wilson
18. Puppy Love – The Soul Two
19. Riding for a Fall – Delroy Wilson