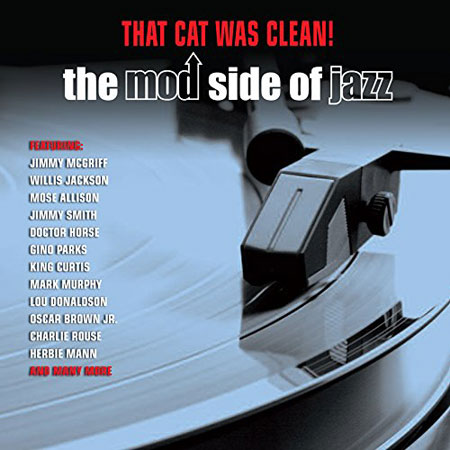 Some of you might recall Walk On The Wild Side – The Jazz Side Of Mod from May this year, which was a budget collection of mod-friendly jazz tunes from the 1960s. If that worked for you, then you might also want the equally budget That Cat Was Clean! The Mod Side Of Jazz on your shelves too.
Different cover, but similar idea. A two-CD set of jazz tunes for under a fiver. Not just any old stuff too, there are some genuine classics on here from across the jazz spectrum from the likes of Jimmy Smith, Ray Charles, Booker T, Mose Allison and more.
40 tracks, with a price tag of £4.99. You can pre-order one now ahead of the 10th November release date. Tracklisting below.
Find out more at the Amazon website
Disc: 1
1. Jack, That Cat Was Clean – Dr. Horse
2. I Got A Woman – Booker T. & The MG's
3. Same Thing – Gino Parks
4. You Can't Sit Down (Part 1 & 2) – Phil Upchurch Combo
5. Ain't That Lovin' You – Joe Scott & Bobby Bland
6. One O'Clock Jump – Jimmy Smith
7. One Mint Julep – Ray Charles
8. One Note Samba – Herbie Mann & Gilberto Joao & Antonio Carlos Jobim
9. Y'all (feat. Willis Jackson) – Johnny "Hammond" Smith
10. Ooh Poo Pah Doo – The Shirelles
11. Baby, Please Don't Go – Mose Allison
12. Sixteen Tons – Oscar Brown, Jr.
13. Whatever Lola Wants (Lola Gets) – Sarah Vaughan
14. Cleo's Mood – Junior Walker & The All Stars
15. Nice 'n' Greasy – Lou Donaldson
16. The Blues Message (feat. Curtis Amy) – Paul Bryant
17. Last Night – The Mar-Keys
18. John Henry – Ramsey Lewis Trio
19. Love Me Or Leave – Nina Simone
20. At The Club – Ray Charles
Disc: 2
1. Back At The Chicken Shack – Jimmy Smith
2. Right Now – Herbie Mann
3. Mood Indigo – Nina Simone
4. Fever – King Curtis
5. That's The Way I Feel – Jimmy McGriff
6. Fire – Gino Parks
7. The Seventh Son – Mose Allison
8. Sack O' Woe – The Mar-Keys
9. Love – Mark Murphy
10. Burnt Biscuits – The Triumphs
11. Twist Lackawanna – Junior Walker & The All Stars
12. You Can't Sit Down – Booker T. & The MG's
13. Sticks And Stones – Ray Charles
14. The Slide Part 1 – Googie Rene
15. Face To Face – Baby Face Willette Quartet
16. Hallelujah, I Love Her So – Richard Groove Holmes
17. Neckbones (feat. Willis Jackson) – Johnny "Hammond" Smith
18. Black Eye Peas – Ramsey Lewis Trio
19. Mambo Típico – Tito Puente
20. Salt Pork West Virginia – Dr. Horse