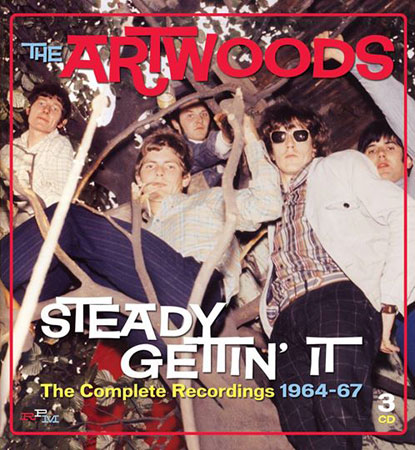 We don't know all the details of this just yet, but we do have the tracklisting of The Artwoods – Steady Getting' It (The Complete Recordings) on RPM.
In a way, it's pretty self-explanatory. This is a collection of all worthwhile recordings of the cult mod band between 1964 and 1967, mixing early material and singles, the Art Gallery album, lesser-known material, BBC sessions and live tracks – the final disc is a live set from Denmark in 1967.
Three CDs of material and total, with some decent sleevenotes to go along with it we would expect. RPM are usually pretty hot on that kind of thing.
Anyway, tracklisting below. It's due out at the end of July, probably worth checking amazon.co.uk for pre-orders nearer the time.
Tracklisting:
Disc 1: THE SINGLES … PLUS
1. Chicago Calling
2. Hoochie Coochie Man
3. Talkin' About You *
4. Kansas City *
Tracks 1-4 credited to The Art Wood Combo
5. Sweet Mary
6. If I Ever Get My Hands On You
7. Oh My Love
8. Big City
9. Goodbye Sisters
10. She Knows What To Do
11. I Take What I Want
12. I'm Looking For A Saxophonist Doubling French Horn Wearing Size 37 Boots
13. These Boots Are Made For Walkin'
14. A Taste Of Honey
15. Our Man Flint
16. Routine
17. I Feel Good
18. Molly Anderson's Cookery Book
19. What Shall I Do
20. In The Deep End
21. Brother Can You Spare A Dime
22. Al's Party
BBC SESSIONS
23. Smack Dab In The Middle (17.08.65) *
24. Goodbye Sisters (17.08.65) *
25. She Knows What To Do (17.08.65) *
26. Can You Hear Me (10.05.66) *
27. I Take What I Want (10.05.66) *
28. Jump Back (10.05.66) *
Disc 2: ART GALLERY
1. Can You Hear Me
2. Down In The Valley
3. Things Get Better
4. Walk On The Wild Side
5. I Keep Forgettin'
6. Keep Lookin'
7. One More Heartache
8. Work Work Work
9. Be My Lady
10. If You Gotta Make A Fool Of Somebody
11. Stop And Think It Over
12. Don't Cry No More
BBC SESSIONS
13. One More Heartache (08.08.66) *
14. I Feel Good (08.08.66) *
15. Things Get Better (08.08.66) *
16. Stop And Think It Over (16.12.66) *
17. In The Deep End (16.12.66) *
18. What Shall I Do (18.03.67) *
19. Day Tripper (18.03.67) *
20. Steady Gettin' It (18.03.67) *
21. Devil With A Blue Dress On – Good Golly Miss Molly (18.03.67) *
22. In The Deep End (18.03.67) *
Disc 3:
LIVE AT FUNNY PARK, DENMARK, 1967
Steady Gettin' It *
Keep Lookin' *
I Need Your Loving *
Love Have Mercy – Bony Moronie -Love Have Mercy *
Be My Lady *
Day Tripper *
How Long *
Shake
Tic Tac Toe *
Song Of The Journeyman *
Black Mountain *
(I Can't Get No) Satisfaction *
* = previously unissued