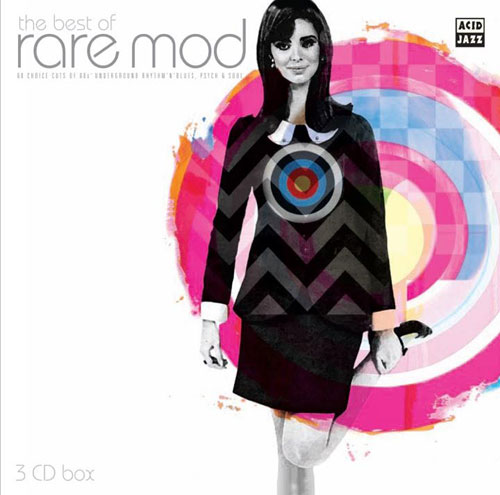 If you haven't paid much attention to the series in the past, then you probably want The Best Of Rare Mod Box Set in your collection.
Released by Acid Jazz, this is a three-CD set commemorating 10 years of the series, which focuses on rare and previously unreleased masterpieces from the 1960s.
Artists featured include David Bowie with the Riot Squad, Sharon Tandy, The Fleur De Lys, The Artwoods, Jimmy James & The Vagabonds, Geno Washington & The Muleskinners (featuring Ian McLagan) to name just a few.
The set has been compiled by Rare Mod overlord Richard Searle and comes with a 24-page booklet complete with in-depth sleeve notes explaining the genesis of the series and the tracks themselves.
For a three-disc set, sounds decent value at £15.34 too. Track listing below and the shelf date is 26th May 2017. You can, of course, pre-order now.
Find out more at the Amazon website
Track listing:
(Note that this is copied off the retail listing and looks to have a couple of errors. We will update as soon as the finished version goes online).
Disc: 1
1. Dog Soul – Big Bird
2. The Richard Kent Style – I'm Out
3. Tony and Tandy – Two Can Make It Together
4. Geno – Washington
5. Blinkers – Hello
6. The Montanas – Hey Diddle Diddle (demo)
7. The Afex – She's Got The Time
8. Dave & The Diamonds – Think About Love.
9. The Nocturnes – Hay, That's What Horses Eat.
10. Jimmy James and The Vagabonds – She's Looking Good 11.Carl Douglas
11. Maxine – A Love I Believe
12. The Ossie Layne Show – Sing A Simple Song
13. Riot Squad – I'm Waiting For My Man
14. Dave Anthony's Moods – New Directions
15. The Muleskinners – Backdoor Man
16. The Frays – Keep Me Covered
17. The Clique – Ooh Poo Pah Doo
18. The Fleur De Lys – You've Got To Earn It
19. Kenny Bernard & The Wranglers – I'll Go Crazy (You Gotta Give)
Disc: 2
1. The Top Six – I'm A Man
2. Waywood Ellis – I Like What I'm Trying To Do. 3.Tony Colton
3. Kenney Bernard & The Wranglers – In The Midnight Hour.
4. Syd's Crowd – Times Are Good Babe
5. The Unknown Mod Girl – Coming Home Baby
6. Truly Smith – This Is The First Time 8.Sharon Tandy
7. The Shapes Of Things – Striving 14.The Shots
8. The Troop – You'll Call My Name
9. Steve Howe – So Bad 17.The Wild Ones
10. The Attack – You Know He Did
11. The Artwoods – Hoochie Coochie Man
12. The Fantastic Freddy Mack Show – Bare footin'(Live)
Disc: 3
1. Satsisfaction – The House of the Rising Sun
2. The Penny Blacks – I'm Coming Home To You
3. Gary Farr and The T Bones – Together Forever
4. The Unknown Mod Band – Hey Gyp 5. Syd's Crowd
5. Maxine – Who Belongs To You 8. Carl Douglas – Crazy Feeling
6. Jimmy James and The Vagabonds – Soul Sister, Brown Sugar
7. Tony and Tandy – The Bitter With The Sweet
8. Kenny Bernard & The Wranglers – What'd I Say
9. The Clique – See That My Grave Is Kept Clean.
10. The Fleur De Lys – Wait For Me
11. The Frays – Don't Start Crying Now 15. Geno Washington
12. The Ossie Layne Show – Rock My Plimsol
13. The Silence – Down Down 18. The Muleskinners – Need Your Lovin'
14. The Mountain Men – Too Many People Around
15. The Riot Squad with David Bowie – Toy Soldier"
Save