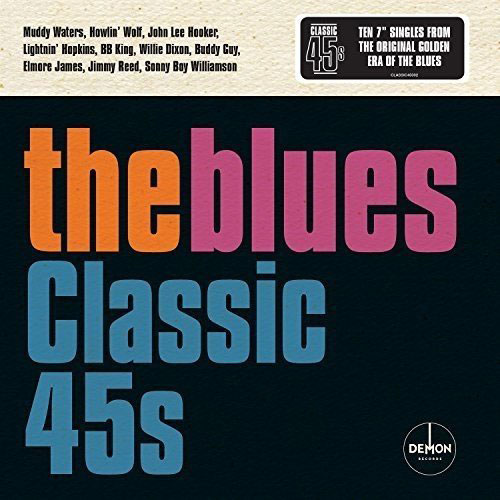 Demon has done some of these boxes for Record Store Day, but this one is a proper release available online. We are talking about  The Blues Classic 45s box set.
Down as a limited edition (although we don't know for sure how many), it is a box of 10 7-inch singles showcasing some mighty fine blues classics and some of the 'very biggest and most influential artists of the genre'.
All double A sides, all 'dinked' for jukeboxes (with a spider to play elsewhere included) and all housed in a hard box. The tracks selected are listed below, with plenty of bona fide mod classics amongst them. Full track listings below.
The box is out on 17th June 2016 and is available to pre-order now at Amazon for £60.93.
Find out more at the Amazon website
Track listing:
Disc: 1
1. "1. Mannish Boy – Muddy Waters
2. I'm Your Hoochie Coochie Man – Muddy Waters
Disc: 2
1. 1. Smokestack Lightnin' – Howlin Wolf
2. Spoonful – Howlin Wolf
Disc: 3
1. 1. Boom Boom – John Lee Hooker
2. Boogie Chillen – John Lee Hooker
Disc: 4
1. 1. Mojo Hand – Lightnin' Hopkins
2. (Bring Me My) Shotgun (Blues) – Lightnin' Hopkins
Disc: 5
1. 1. Everyday I Have The Blues – BB King
2. 3 O'Clock Blues – BB King
Disc: 6
1. 1. Walking The Blues – Willie Dixon
2. Pain In My Heart – Willie Dixon
Disc: 7
1. 1. The First Time I Met The Blues – Buddy Guy
2. I Got My Eyes On You – Buddy Guy
Disc: 8
1. 1. The Sky Is Crying – Elmore James
2. Dust My Broom – Elmore James
Disc: 9
1. 1. Baby What You Want Me To Do – Jimmy Reed
2. Honest I Do – Jimmy Reed
Disc: 10
1. 1. Don't Start Me Talkin' – Sonny Boy Williamson
2. Nine Below Zero – Sonny Boy Williamson