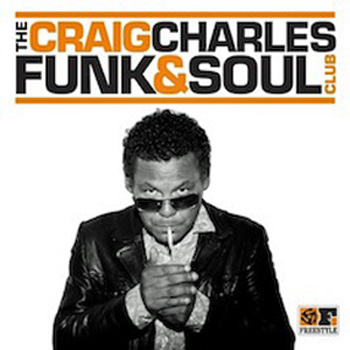 The 6music show is popular and the man himself has done plenty of guesting out and about (including at Manchester's legendary Hideaway Club). So The Craig Charles Funk & Soul Club album on Freestyle Records could be a decent listen.
It's an interesting album too, perhaps not as you would imagine, a mix of classic tunes and modern exponents of vintage soul and funk grooves.
According to the man himself: 'This CD contains 19 rip snorting, bass drum banging, brass blaring booga-bloody-loo, big beats, bass lines and blooming brilliant vocals. From as far away as Australia with The Bamboo's ultimate party starter Amen Brother, to The Excitements coming out of Barcelona – boy can she rattle your glasses! I bring you some cover versions that have surely got to be better than the real thing, like Nostalgia 77 & Alice Russell's take on The White Stripes '7 Nation Army'.
 
'And T Bird and the Breaks 'Clap Hands Song'. not to mention The Incredible Bongo Bands' skin shredding version of The Rolling Stones 'Satisfaction'. Bands like Smoove & Turrell from the northeast and The Haggis Horns from Scotland via Leeds prove that Britain's response to the music laid down by legends such as James Brown, the hardest workingman in show business, has been truly remarkable.'
 
'All these tunes are guaranteed to tear the roof off any venue festival or house party in the known universe. Enjoy and remember …no sleep till bedtime!'
Tracklisting is below, with the album released officially on 26th November (although Amazon has it down as 3rd December). You can pre-order a copy for £8.16.
Tracklisting:
1 – Amen Brother – The Bamboos
2 – The Excitements – Wait A Minute
3 – The Clap Hands Song – T Bird & The Breaks
4 – Hard Work – Smoove & Turrell
5 – Seven Nation Army – Nostalgia 77 Ft Alice Russell
6 – Insane In The Membrane  – Prince Fatty Ft Horseman
7 – A Time For – Lack Of Afro Ft Wayne Gidden
8 – Rocket Man – The Stiff Naked Fools
9 – Killing – The Apples
10 – Singalong – Treva Whateva
11 – More Than Dancing – The Federation
12 – The Bump – The Haggis Horns
13 – Cold Case – The Fantastics! Ft Sulene Fleming
14 – Incredible Bongo Band – Satisfaction
15 – Fish In The Sea – Frootiful Ft Angeline Morrison
16 – The Snake – Al Wilson
17 – Shaft In Africa – The Mighty Stopstoppers
18 – Dragging Me Down – Speedometer ft Martha High
19 – A Cool Cat In Town – Tape Five ft Brenda Boykin