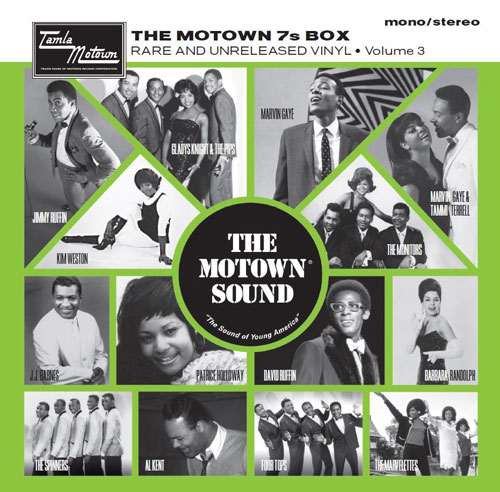 If you already own the first two, you might want to invest in The Motown 7s Box Volume 3, which is heading your way fairly soon.
A limited edition 7inch box set featuring 14 in-demand tracks from the Motown archives, none of which have made it out as 45s before. That's pretty much all you need really.
Well, you need a couple more details. First off, the track listing, which is below. Secondly,you need a price and release date. That's £45 and the 23rd September 2016.
Find out more at the Amazon website
Track listing:
SINGLE 1
Patrice Holloway – The Touch Of Venus
The Marvelettes – Your Love Can Save Me
SINGLE 2
Al Kent – The Way You Been Acting Lately
Barbara Randolph – My Love Is Your Love (Forever)
SINGLE 3
David Ruffin – It's Gonna Take a Whole Lot of Doin'
Four Tops – Sweet Was The Love
SINGLE 4
Gladys Knight & The Pips – The Stranger
Jimmy Ruffin – The "In" Crowd
SINGLE 5
JJ Barnes – Show Me The Way
Kim Weston – I'm Gonna Make It Up To You
SINGLE 6
Marvin Gaye – It's Not Unusual
Marvin Gaye & Tammi Terrell – We'll Be Satisfied
SINGLE 7
The Monitors – Crying In The Night
The Spinners – Head Over Heels In Love With You Baby