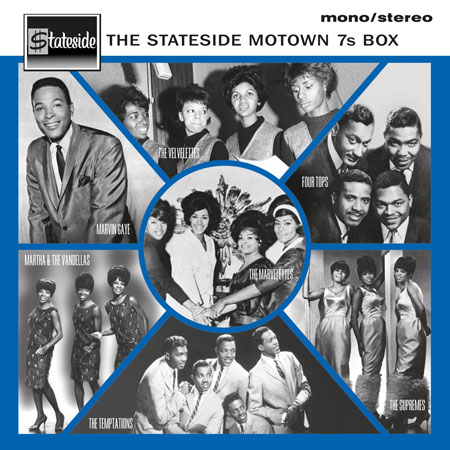 This is out next week, but you can order The Stateside Motown 7s box set right now if you want one.
It's perhaps one for the completist and anyone building a vinyl collection rather than the serious collector. That's because this is essentially a showcase for Motown releases on the Stateside label and as such, features obvious selections. Or classics, if you like.
The box is a limited edition, with the contents listed below. If you want one, the price is £65.99.
Find out more at the Amazon website
Tracks:
Single 1: Martha & The Vandellas
A. In My Lonely Room
B. Dancing In The Street
Single 2: The Supremes
A. Come See About Me
B. When The Lovelight Starts Shining Through His Eyes
Single 3: The Temptations
A. Girl (Why You Wanna Make Me Blue)
B. The Way You Do The Things You Do
Single 4: Marvin Gaye
A. Can I Get A Witness
B. How Sweet It Is (To Be Loved By You)
Single 5: The Velvelettes
A. He Was Really Sayin' Somethin'
B. Needle In A Haystack
Single 6: Four Tops
A. Without The One You Love (Life's Not Worthwhile)
B. Baby I Need Your Loving
Single 7: The Marvelettes
A. Too Many Fish In The Sea
B. You're My Remedy