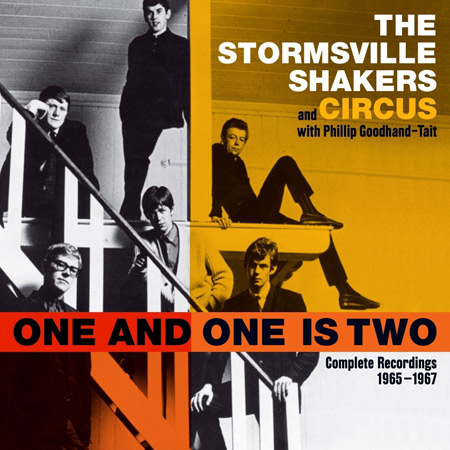 Another interesting release from the Cherry Red stable, specifically The Stormsville Shakers – One And One Is Two (The Complete Recordings 1965 – 1967).
Released via the RPM offshoot, this is a band retrospective plus more. The R&B band's output is here, but so is the material from the more psych-y Circus that followed plus frontman Phillip Goodhand-Tait's rare solo single too.
In all, 27 tracks, as well as sleeve notes from Phillip Goodhand-Tait. it is released on 18th May 2015, selling for £7.99. Tracks below.
Find out more at the Amazon website
Track listing:
1. I'm Gonna Put Some Hurt on You
2. It's a Lie
3. No Problem
4. What More Do You Want
5. The Society for the Protection of Love
6. Gettin' Ready
7. L'amour Se Lisait Dans Ses Yeux
8. Number One
9. You Can't Take Love
10. J.C.Greasburger
11. Long Live Love
12. I'll Do the Best I Can
13. There You Go
14. Do What You Wanna Do
15. Where Were You (on Our Wedding Day)
16. One and One Is Two*
17. I Feel Good (Live)
18. Have You Ever Had the Blues (Live)
19. Turn on Your Love Light (Live)
20. Gone Are the Songs of Yesterday
21. Sink Or Swim
22. Do You Dream
23. House of Wood
24. Yes Is a Pleasant Country
25. Something to Write About
26. The Patience of a Fool
27. Who Will Love Her