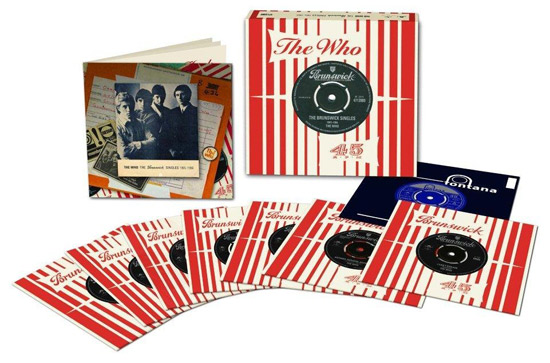 We are a bit heavy on The Who stories today (yes, there are more coming), but that's because there are a lot of good things around. like The Brunswick Singles 7-inch vinyl box set.
It's part of a big The Who vinyl campaign, with this set kicking off a series of four 45 box sets. We suspect this is the one to have though.
Each is a limited edition, with this containing 7x 7-inch singles from the start of the band's career, each pressed on heavyweight vinyl with paper sleeves reproducing 'the period graphics' front and back with die-cut centre hole.
All of that is in a rigid other box with a 7-inch sized colour booklet featuring liner notes for each release.
The set includes 'I Can't Explain', 'Anyway, Anyhow, Anywhere', 'My Generation' as well as unreleased single – 'Circles' backed with 'Instant Party Mixture'. There is also a bonus 45 featuring the band's first single, as the High Numbers – 'Zoot Suit' b/w 'I'm The Face'.
It is available on 6th April 2015, officially priced at £39.99. There is a page on Amazon for it, but as yet it doesn't have an order button. Expect that to change in the coming days.
Find out more at the Amazon website
Full details:
Volume 1: The Brunswick Singles 1965-1966.
1. 'I Can't Explain' 2.04
b/w 'Bald Headed Woman' 2.08
Brunswick 05926. Released 15 January 1965
2. 'Anyway, Anyhow, Anywhere' 2.40
b/w Daddy Rolling Stone 2.46
Brunswick 05935. Released 21 May 1965
3. 'My Generation' 3.15
b/w 'Shout and Shimmy' 3.15
Brunswick 05944. Released 25 October 1965
4. Circles 3.10
Instant Party Mixture 3.26
(Bruns 05951) Unreleased at the time
5. 'A Legal Matter'2.47
b/w 'Instant Party' AKA CIRCLES 3.10
Brunswick 05956. Released 7 March 1966
6. 'The Kids Are Alright' 3.03
b/w 'The Ox' 3.47
Brunswick 05965. Released 12 August 1966
7. 'La-La-La Lies' 2.13
b/w 'The Good's Gone' 4.01
Brunswick 05968. Released 11 November 1966
8. Bonus disc
'Zoot Suit' 1.59
b/w 'I'm The Face' 2.33
(Fontana) Fontana TF 480. Released 3 July 1964 Released as The High Numbers