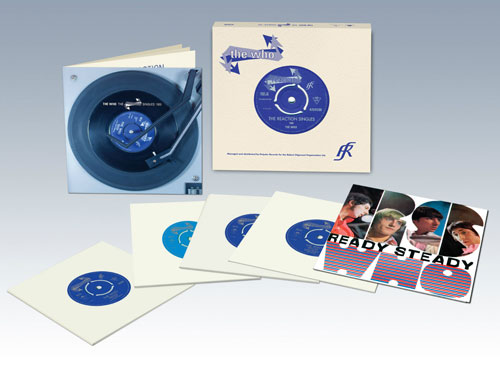 You might recall the first box set in this series, which was the Brunswick singles, released back in April. More were promised and the second has now been scheduled – The Who Volume 2: The Reaction Singles 1966.
It is the second instalment of what is expected to be a four-part set, which will eventually cover Brunswick, Reaction, Track and Polydor releases. Anyway, enough of the future, let's look at the present and Volume 2: The Reaction Singles 1966.
This one covers the five 7-inch singles released by the band from the Reaction label through 1966, each one recreated with authentic replicas of the original sleeves and pressed on heavyweight audiophile vinyl with die-cut centre holes. All of that is housed in a full-colour box with an 8-page booklet that includes notes about the releases by Who biographer Mark Blake
Tracks are detailed below and if you want one, you can pre-order via uDiscover right now or you can hang on and see if Amazon
do it cheaper than the £44.99 price. You probably have time to wait too, as the release date is 14th August 2015.
Tracklisting
1. 'Substitute' b/w 'Circles' AKA 'Instant Party' (Reaction 591001) Released 4 March 1966.
NOTE: Reaction issued 3 versions of 591001. The first two were as above but the b-side had differing titles.
2. 'Substitute' b/w 'Waltz For A Pig' (Reaction 591001). Released 14 March 1966
This is version 3 with the unusual b-side credited to 'The Who Orchestra'.
3. 'I'm A Boy' b/w 'In the City' (Reaction 591004) Released 26 August 1966
4. Ready Steady Who (EP) (Reaction 592001) inc. 'Disguises', 'Circles' b/w 'Batman', 'Bucket T', 'Barbara Ann' Released 11 November 1966
5. 'Happy Jack' b/w 'I've Been Away' (Reaction 591010) Released 9 December 1966