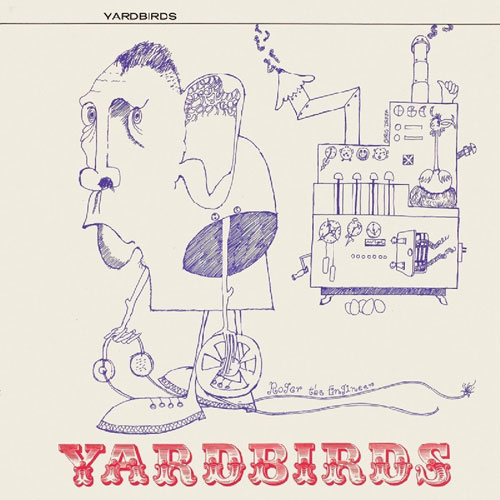 I think the album is actually officially called The Yardbirds. But generally this is known as the Roger The Engineer. Either way, it is back as a 50th anniversary reissue very soon.
Both releases are via Repertoire Records and both land on 29th April 2016. The vinyl is offered as both a mono and stereo version, each on 180g vinyl and half-speed remastered at Abbwy Road. Tracks as you expect.
The CD, only the other hand, has a host of extras.
That offers the complete Mono and Stereo versions of the album, plus 12 bonus tracks, including 8 Mono recordings such as non-album Yardbirds single Stroll On from the Blow Up film plus Keith Relf solo recordings from the same year. There are also rare alternate recordings to enjoy too.
On top of that you get a 28-page booklet with liner notes, including 'detailed data' and quotes, reproductions of the alternative USA, Canadian and German LP covers and a new sleeve note from Jim McCarty, looking back on the 50 years since the release in 66.
You can pre-order both now, the CD set selling for £12.99 and the vinyl for £19.99. Tracks below.
Roger The Engineer on CD at the Amazon website
Roger The Engineer Stereo Version at the Amazon website
Roger The Engineer Mono Version at the Amazon website
Track listing:
Disc: 1
1. Lost Woman
2. Over,Under,Sideways,Down
3. The Nazz Are Blue
4. I Can't Make Your Way
5. Rack My Mind
6. Farewell
7. Hot House Of Omagararshid
8. Jeff's Boogie
9. He's Always There
10. Turn Into Earth
11. What Do You Want
12. Ever Since The World Began(Tracks 1-12,THE MONO ALBUM)
13. Happenings Ten Years Time Ago
14. Psycho Daisies
15. Stroll On(Tracks 13-5,BONUS TRACKS:THE YARDBIRDS 1966 MONO RECORDINGS)
16. Mr.Zero – Keith Relf
17. Knowing – Keith Relf
18. Shapes In My Mind – Keith Relf
19. Blue Sands – Keith Relf
20. Shapes In My Mind (Alternate Version)
(Tracks 16-20,SPECIAL BONUS TRACKS:KEITH RELF 1966 SOLO RECORDINGS)
Disc: 2
1. Lost Woman
2. Over,Under,Sideways,Down
3. The Nazz Are Blue
4. I Can't Make Your Way
5. Rack My Mind
6. Farewell
7. Hot House Of Omagararshid
8. Jeff's Boogie
9. He's Always There
10. Turn Into Earth
11. What Do You Want
12. Ever Since The World Began(Tracks 1-12,THE STEREO ALBUM)
13. He's Always There(Alternate version)
14. Turn Into Earth(Alternate version)
15. Turn Into Earth(Lead vocal)
16. I Can't Make Your Way(Alternate version)
(Tracks 13-16 BONUS TRACKS THE YARDBIRDS 1966 STEREO RECORDINGS)