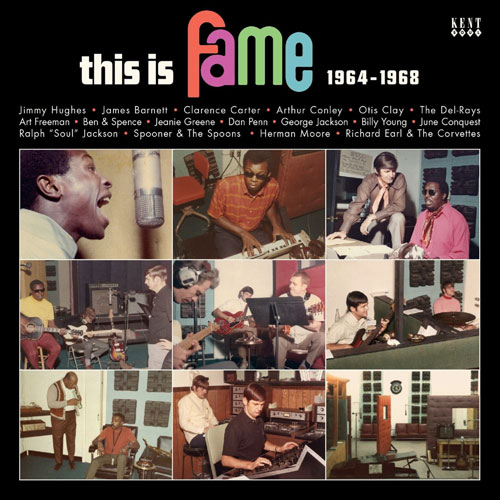 Liking the look of this, which is the This Is Fame 1964 – 1968 compilation on the Kent label.
Fame Records was an off shoot of the Fame Studio, with this vinyl-only compilation picking out the very best of the label's output during its first four years.
Southern soul at its best, featuring the likes of Clarence Carter and Jimmy Hughes, as well as northern soul classics from James Barnett and Art Freeman, plus recordings by Dan Penn and Spooner Oldham and many tracks making a first appearance on vinyl.
Two discs in a single sleeve, with two 'lavishly illustrated inner bags' including the trademark Kent extensive notes. It lands on 30th September 2016 but you can pre-order now, £16.05 being the price. Tracklisting below.
Find out more and pre-order at the Amazon website
Track listing:
Disc: 1
1. Steal Away – Jimmy Hughes
2. It Tears Me Up – James Barnett
3. She Ain't Gonna Do Right – Clarence Carter
4. I Can't Stop (No, No, No) – Arthur Conley
5. That Kind Of Lovin' – Otis Clay
6. Fortune Teller – The Del-Rays
7. Slippin Around With You – Art Freeman
8. Keep On Talking – James Barnett
9. Hi-Heel Sneakers – Jimmy Hughes
10. Long Ago – Ben & Spence
11. Don't Make Me Hate Loving You – Jeanie Greene
12. (Take Me) Just As I Am – Dan Penn
Disc: 2
1. Back In Your Arms – George Jackson
2. Feed The Flame – Billy Young
3. You Really Know How To Hurt A Guy – Ralph Soul Jackson
4. Thread The Needle – Clarence Carter
5. A Piece Of My Heart – Art Freeman
6. Wish You Didn't Have To Go – Spooner & The Spoons
7. Almost Persuaded – June Conquest
8. I'm Gonna Forget About You – Arthur Conley
9. Take A Good Look – James Barnett
10. Come On Home – Herman Moore
11. Blind Can't See – Richard Earl & The Corvettes
12. I Worship The Ground You Walk On – Jimmy Hughes