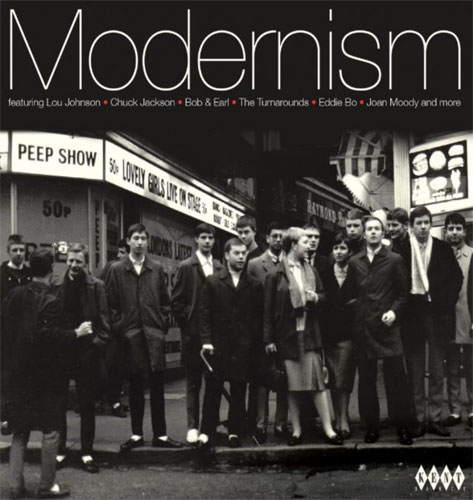 Get saving your pennies as Modernism looks like anther superb compilation from Kent and Ace Records. What else would you expect of them?
The album is described as '24 tracks of hip-shaking club soul and vintage R&B', all of which has been compiled by Ady Croasdell and Dean Rudland, which is another mark of quality as far as I'm concerned.
As for the tracks themselves, they are tracks discovered dugong mod's various  (re)incarnations with records so obscure they have yet to see the light of day.
So the likes of Chuck Jackson's 'Beg Me', Lou Johnson's 'Magic Potion' and Darrow Fletcher's 'I've Gotta Know Why' alongside previously unknown gems as Chet Ivey's 'Soul Is My Game' (hidden on a b-side), Leroy Harris' I'm Gonna Get You and The Shirelles' unreleased at the time 'Crossroads In Your Heart'.
In addition to that, you get a cover featuring images from Paul Hallam's Odds and Sods book that covered the 80s mod scene in London plus the usual in-depth sleeve notes you would expect of an Ace release.
The release date is 27th May 2016 and the album is available to pre-order now, priced at £11.72.
Find out more at the Amazon website
Track listing:
1. BEG ME – Chuck Jackson
2. EVERYBODY'S FEELIN' GOOD – King Carl
3. I'M GONNA GET YOU – Leroy Harris
4. LISTEN TO ME (BABY) – Ralph Ventsha & Red Julian Quartet
5. CINDERELLA JONES – Sammy Jones
6. I KNOW WHAT I WANT – Tommy G & The Charms
7. AIN'T THAT SOUL – Teddy Reynolds
8. CROSSROADS IN YOUR HEART – The Shirelles
9. MAGIC POTION – Lou Johnson
10. SOUL IS MY GAME – Chet "Poison" Ivey & His Fabulous Avengers
11. I'VE GOTTA KNOW WHY – Darrow Fletcher
12. TE NA NA NAY – EddieBo
13. WE GONNA RUB PART 1 – Joe Johnson
14. I'M ON THE MOVE – Joe Mayfield
15. NIGHT BEAT – Kenny Smith & The Loveliters
16. PRIVATE EYE – Wallace Johnson
17. CLAP YOUR HANDS – Ambertones
18. GO – Little Johnny Hamilton & The Creators
19. THE PHILLIE – M&M & The Peanuts
20. THE DUCK PART 2 – Jackie Lee
21. DANCIN' EVERYWHERE – Bob & Earl
22. WHEN ONE OF THEM WON'T – The Turnarounds
23. THE LIFE OF THE PARTY – Joan Moody
24. DO IT – Pat Powdrill