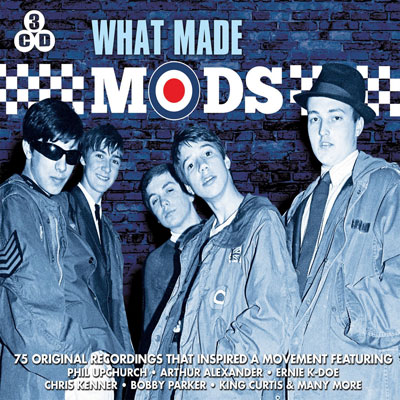 Yes, that's right, yet another mod-themed box set – and as you might expect, What Made Mods is both cheap and fairly obvious in content.
If you want that, fair enough. You'll find 75 tracks for just over a fiver on three CDs. The them is said to be the music that inspired mods and the people who formed bands in the original mod scene.
Although looking at the playlist, it's more the case of a lot of tracks that have been played heavily on the 1960s mod scene and beyond. Have a look at the tracklisting and see what you think.
Can't imagine there being much in the way of a booklet or notes to go with it (only judging by the cover admittedly), like some previous boxes, you can't argue with the price of £5.83 for three CDs loaded with tunes – a number of classics included too. You can pre-order now, with the shelf date being 26th May 2014.
Find out more at the Amazon website
Tracklisting:
Disc One
1. Night Train (James Brown)
2. Green Onions (Booker T. & MG's)
3. Money (Barrett Strong)
4. I'm A Man (Bo Diddley)
5. You've Really Got A Hold On Me (The Miracles)
6. My Boy Lollipop (Barbie Gaye)
7. Sweets For My Sweet (The Drifters)
8. Let Your Conscience Be Your Guide (Marvin Gaye)
9. Please Mr. Postman (The Marvelettes)
10. Humpty Dumpty (Eric Morris & The Drumbago All Stars)
11. Walk On The Wild Side Pts 1 & 2 (Jimmy Smith)
12. You Can't Sit Down (Phil Upchurch)
13. Daddy Rollin' Stone (Derek Martin)
14. You Better Move On (Arthur Alexander)
15. The Town I Live In (McKinley Soul Mitchell)
16. Shimmy Shimmy Ko-Ko Bop (Little Anthony)
17. Just A Little Bit (Roscoe Gordon)
18. Oh Carolina (Folkes Brothers)
19. Dimples (John Lee Hooker)
20. I'm Comin' Home (Mel Torme)
21. Peanut Butter (The Marathons)
22. Hideaway (Freddie King)
23. Lonely Teardrops (Jackie Wilson)
24. A Certain Girl (Ernie K-Doe)
25. Last Night (The Mar Keys)
Disc Two
1. Stand By Me (Ben E. King)
2. Smokestack Lightning (Howlin Wolf)
3. Dontcha Just Know It (Huey Piano Smith & The Clowns)
4. Boom Boom (John Lee Hooker)
5. Peppermint Twist (Joey Dee & The Starlighters)
6. Soul Twist (King Curtis)
7. Keep Your Hands Off My Baby (Little Eva)
8. She Made My Blood Run Cold (Ike Turner's Kings Of Rhythm)
9. Down In The Valley (Solomon Burke)
10. Mash Mr. Lee (Byron Lee)
11. Baby, What You Done Me Is Wrong (Bobby Kingdom)
12. What Makes Honey (Duke Reid's Group)
13. Boogie Rock (Laurel Aitken & The Boogie Cats)
14. Sugar In My Tea (Piney Brown & The Blues Toppers)
15. Gonzo (James Booker)
16. The Hunch (Paul Gayten)
17. Fever (Pete Bennett & The Embers)
18. A Shot Of Rhythm And Blues (Arthur Alexander)
19. What'd I Say (Ray Charles)
20. Hully Gully (Olympics)
21. Some Other Guy (Richie Barrett)
22. Who Do You Love (Bo Diddley)
23. Chains (Cookies)
24. Parchman Farm (Mose Allison)
25. Flamingo (Earl Bostic)
Disc Three
1. Got My Mojo Working (Muddy Waters)
2. The Snake (Maximilian)
3. Pony Time (Don Covay)
4. I Pity The Fool (Bobby Blue Bland)
5. A Fool In Love (Ike & Tina Turner)
6. Mountain's High (Dick & Dee Dee)
7. Louie Louie (Richard Berry & The Pharoahs)
8. Twist And Shout (The Top Notes)
9. Hurricane (Dave Baby Cortez)
10. I Know (You Don't Love Me No More) (Barbara George)
11. Ooh Poo A Doo (Jessie Hill)
12. Tell Him (The Exciters)
13. Do You Love Me (The Contours)
14. Unchain My Heart (Ray Charles)
15. Shout (The Isley Brothers)
16. Stay (Maurice Williams & The Zodiacs)
17. Duke Of Earl (Gene Chandler)
18. Baby It's You (The Shirelles)
19. Volcano (Billy Preston)
20. I Sold My Heart To The Junkman (Lynn Cornell)
21. Watch Your Step (Bobby Parker)
22. Gee Whizz (Carla Thomas)
23. I Like It Like That (Chris Kenner)
24. If You Got To Make A Fool Of Somebody (James Ray)
25. Mashed Potatoes (Nat Kendrick & The Swans featuring James Brown)