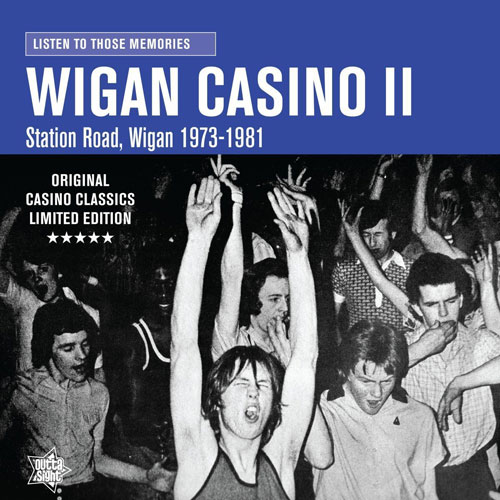 If you have been collecting this series, you might want to know that the Wigan Casino 2 vinyl is coming soon via Outta Sight.
The series has been featured on the site in the past, including The Scene Club and The Twisted Wheel, The Golden Torch and The Blackpool Mecca, as well as the first volume of the Wigan Casino.
That has now been joined by volume 2, which follows the same formula of bringing together 'plays' from the famous northern soul venue on limited edition vinyl. Well, presumably limited edition, which is how the others were pitched.
16 tracks, all listed below and available to pre-order now ahead of the 9th December 2016 shelf date. It sells for £15.53.
Find out more at the Amazon website
Track listing:
1. Too Late – Larry Williams & Johnny Watson
2. They'll Never Know Why – Freddie Chavez
3. Bari Track – Doni Burdick
4. Woman, Love Thief – Stemmons Express
5. Gonna Be A Big Thing – The Yum Yums
6. I Don't Like To Lose – The Group | Cecil Washington
7. The Ice-Man – Billy Watkins
8. I'm Gonna Pick Up My Toys (And Go Home) – Devonnes
9. Soul Time – Shirley Ellis
10. Blowing My Mind To Pieces – Bob Relf
11. Love On A Mountain Top – Robert Knight
12. All Of My Life – Detroit Soul
13. Born A Loser – Don Ray
14. That's No Way To Treat A Gril – Marie Knight
15. I Still Love You – The Seven Souls
16. Loving On The Losing Side – Tommy Hunt