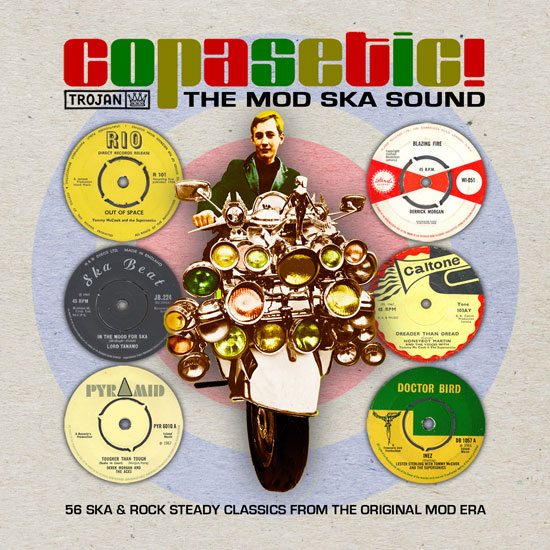 Great to see Trojan producing some interesting collections once more, with the latest being Copasetic! The Sound of Mod Ska.
As you might have guessed, this is a celebration of the ska tunes loved by first-generation mods in the early 1960s, courtesy of a small group of independent labels, whose number included Island, Blue Beat and Doctor Bird.
56 of the most popular ska favourites from the original mod scene make up this two-CD set, which also includes a 12-page booklet featuring an essay on the scene by Record Collector's Mike Atherton, along with an assortment of original photos and memorabilia from the sixties.
The track listing is below and the release date is 24th November 2017. But you can pre-order a copy now, with the price at just £7.99.
Find out more at the Amazon website
Track listing:
DISC 1:
1. 007 – Desmond Dekker and The Aces
2. Contact – Roy Richards
3. Housewife's Choice – Derrick and Patsy
4. Guns Fever – Baba Brooks and His Recording Band
5. Copasetic – The Rulers
6. Independence Ska – The Baba Brooks Band
7. Bonanza Ska – Carlos Malcolm and His Afro Jamaican Rhythms
8. Keep The Pressure On – Winston and George
9. Ska Jam – Tommy McCook and The Supersonics
10. Dreader Than Dread – Honeyboy Martin and The Voices
11. Teenage Ska – The Baba Brooks Band
12. The Higher The Monkey Climbs – Justin Hinds and The Dominoes
13. Blazing Fire – Derrick Morgan
14. Rocket Ship – Tommy McCook and The Skatalites
15. Big Bamboo – Lord Creator
16. King Size Ska – Baba Brooks and His Recording Band
17. Soldiers Take Over – The Rio Grandes
18. Penny Reel O – Eric Morris
19. Faberge – Baba Brooks and His Band
20. Don't Be A Rude Boy – The Rulers
21. Mount Zion – Desmond Dekker and The Four Aces
22. Renegade – The Zodiacs
23. Tougher Than Tough – Derrick Morgan
24. Inez – Lester Sterling and Tommy McCook
25. The Jerk – Derrick Harriott
26. My True Confession – The Silvertones
27. On The Move – Roland Alphonso and The Beverley's All Stars
28. I'm In The Mood For Ska – Lord Tanamo
DISC 2:
1. Nuclear Weapon – Roland Alphonso
2. Wise Man – Desmond Dekker andAces
3. Forward March – Derrick Morgan
4. We Are Rolling – Stranger Cole
5. Rudies All Around – Joe White
6. Storm Warning – Lynn Taitt and The Boys
7. Rudie Gets Plenty – The Spainishtonians
8. Out Of Space – Tommy McCook and The Supersonics
9. Come Down – Lord Tanamo10. Botheration – Justin Hinds and The Dominoes
11. University Goes Ska – Don Drummond
12. Wrong Emboyo – The Rulers
13. Guantanamera Ska – Roland Alphonso and The Beverley's All Stars
14. Something You've Got – Alton Ellis and The Flames
15. One Eyed Giant – Baba Brooks and His Band
16. Honour Your Mother And Father – Desmond Dekker
17. Hi Life – The Granville Williams Orchestra
18. Denham Town – Winston and George
19. Guns Fever (Blam Blam Fever) – The Valentines
20. Duck Soup – Baba Brooks and His Band
21. Man To Man – Kentrick Patrick
22. If You Want Pardon – Higgs and Wilson
23. Good News – The Skatalites
24. Judge Dread In Court – Derrick Morgan
25. Here I Stand – Justin Hinds and The Dominoes
26. Yeah Yeah – The Riots
27. Rudy Got Soul – Desmond Dekker and The Aces
28. Rudy, A Message To You – Dandy Livingstone