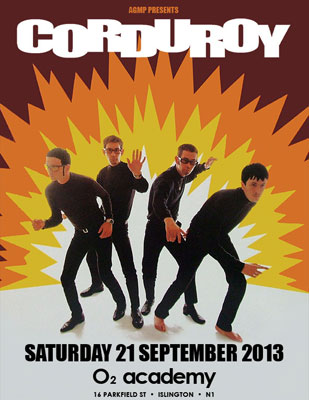 Seems like there's a mini Corduroy revival going on right now. Which suits me just fine. Hot on the heels of the Very Yeah box set comes news of a one-off live show and a live album via Acid Jazz.
First up, the live show. That takes place on Saturday 21st September at the O2 Academy, 16 Parkfield Street, Islington, London N1 and is a one-off. No other dates are planned. All four band members – Ben Addison, Scott Addison, Richard Searle and Simon Nelson-Smith – are confirmed to play.
If you want tickets, you can get them here, as they are now on sale.
That was news enough, but this morning I got a mailout and an advanced copy of an album called London England Live by Corduroy, which is down for a September release via Acid Jazz. it isn't a recording of that show, it's described as 'highlights front two informal home-town shows (by invitation only) for friends, musicians and record label in-crowd'.
This time you are invited, although the album doesn't seem to be available to order anywhere just yet. I'll get a review sorted and dig out those links in a short while.