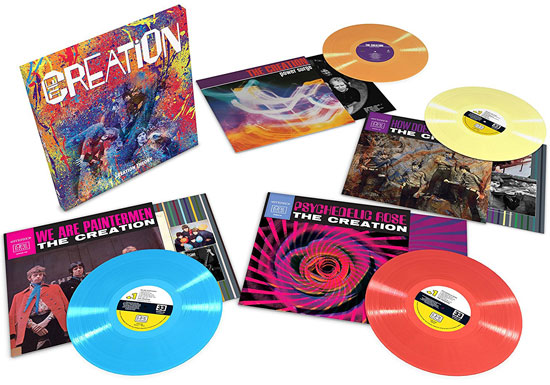 Remember the CD version of this? Well, there's is now an LP version too. But this is The Creation – Creation Theory limited edition vinyl box set.
There are actually two versions, but it's the limited edition I'm focusing on as there are just 500 of these in existence worldwide and as such, you will need to act fast if you want one in your collection.
The vinyl box has been designed by Phil Smee and the album sleeves feature photos from his collection. The four LPs include all of The Creation's legendary recordings for Shel Talmy (the 2016 stereo mixes appear on LP for the first time), 'We Are Paintermen' replicates the 1966 German LP (the only Creation album released anywhere in the 60s) while 'How Does It Feel To Feel' rounds up the remainder of the 60s recordings, the 1987 album 'Psychedelic Rose' is here, as is the 1996 Creation Records album 'Power Surge'.
All the track listings are at the end of this article.
The Creation Theory limited edition vinyl boxes are coloured vinyl and an Amazon exclusive a run of just 500 copies. That looks to be the one to go for. When it sells out, there will be a standard vinyl version available too.
Both are now available to pre-order, with the coloured vinyl obviously the one to have. It costs the same as the standard version, which is £46.65. The release date is 1st June 2018 but preorders are now open if you want to secure one of the 500 Creation Theory limited edition vinyl boxes.
Limited edition Creation Theory vinyl box set at the Amazon website
Standard Creation Theory vinyl box set at the Amazon website
LP One – We Are Paintermen
Side One
1. Cool Jerk
2. Making Time*
3. Through My Eyes
4. Like A Rolling Stone
5. Can I Join Your Band?
6. Tom Tom
Side Two
1. Try And Stop Me*
2. If I Stay Too Long
3. Biff Bang Pow
4. Nightmares
5. Hey Joe
6. Painter Man
*Mono
LP Two – How Does It Feel To Feel
Side One
1. How Does It Feel To Feel
[Uk Version]
2. Sylvette
3. Life Is Just Beginning
4. How Does It Feel To Feel
[Us Version]
5. I Am The Walker*
6. Ostrich Man*
7. Sweet Helen*
Side Two
1. Midway Down
2. The Girls Are Naked*
3. Bony Moronie*
4. Mercy, Mercy, Mercy*
5. For All That I Am
6. Uncle Bert*
*Mono
LP Three – Psychedelic Rose
Side One
1. Lay The Ghost
2. Psychedelic Rose
3. Radio Beautiful
4. United
5. Doing It My Way
Side Two
1. Making Time [New Version]
2. Far From Paradise
3. White Knight
4. Spirit Called Love
LP Four – Power Surge
Side One
1. Creation
2. Power Surge
3. Someone's Gonna Bleed
4. Shock Horror
5. That's How I Found Love
6. Killing Song
Side Two
1. Nobody Wants To Know
2. City Life
3. English Language
4. Free Men Live Forever
5. Ghost Division
6. O+N