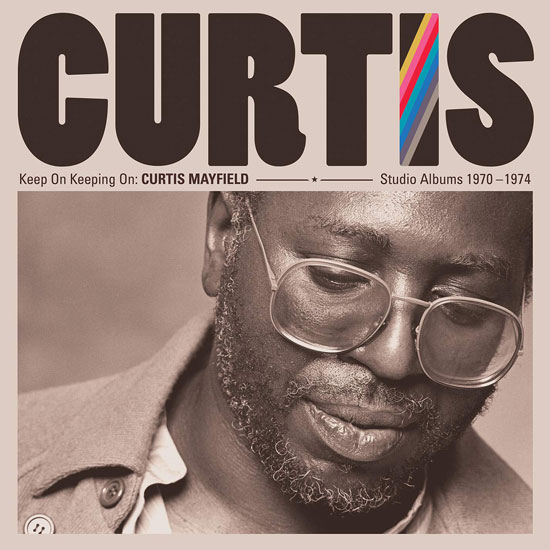 Not a career-spanning box sadly, but the Curtis Mayfield – Keep On Keeping On box set takes in the first four studio albums.
The selling point here is that the audio has been newly-remastered on these four albums, which cover the period of 1970 through to 1974. The albums featured in the box are Curtis (1970), Roots (1971), Back to the World (1973) and Sweet Exorcist (1974).
Oh yes, there's another selling point too. This isn't just a CD-only exercise, the box set is also being released as a 180 gram vinyl box set, both celebrating 50 years since Curtis kicked off his solo career.
The track listings for each album are below and if you want either the CD or LP box, both are released on 22nd February 2019. The CD box is £21.35 and the vinyl box is £60.12.
More on the CD box set at the Amazon website
More on the vinyl box set at the Amazon website
Track listings:
Curtis (1970)
"(Don't Worry) If There's A Hell Below, We're All Going To Go"
"The Other Side Of Town"
"The Makings Of You"
"We The People Who Are Darker Than Blue"
"Move On Up"
"Miss Black America"
"Wild And Free"
"Give It Up"
Roots (1971)
"Get Down"
"Keep On Keeping On"
"Underground"
"We Got To Have Peace"
"Beautiful Brother Of Mine"
"Now You're Gone"
"Love To Keep You In My Mind"
Back to the World (1973)
"Back To The World"
"Future Shock"
"Right On For The Darkness"
"Future Song (Love A Good Woman, Love A Good Man)"
"If I Were Only A Child Again"
"Can't Say Nothin'"
"Keep On Trippin'"
Sweet Exorcist (1974)
"Ain't Got Time"
"Sweet Exorcist"
"To Be Invisible"
"Power To The People"
"Kung Fu"
"Suffer"
"Make Me Believe In You"