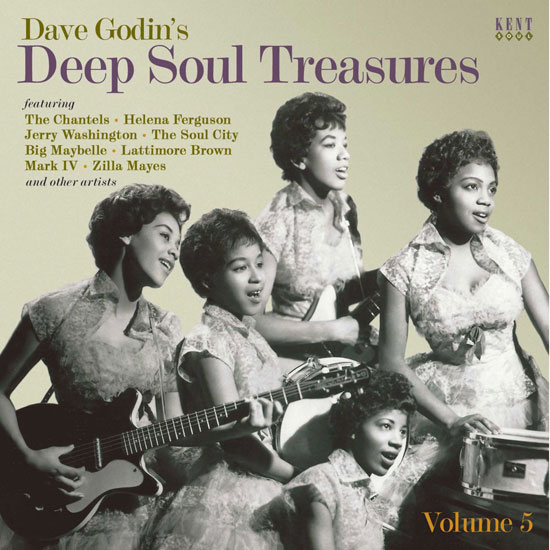 Sadly Dave Godin is no longer with us, but his influence continues with the upcoming Dave Godin's Deep Soul Treasures 5 CD on Kent.
15 years on from both Dave Godin's death and his fifth volume of 'Deep Soul Treasures', Kent has compiled a further 25 tracks using titles chosen by Dave for future projects in the series.
Many are recordings he wanted from day one of the Treasures concept, but licensing quirks made them unavailable until now. Thankfully, some of those have been cleared now, so key artists that haven't featured so far (like Big Maybelle for ex`male) are now able to take their place in the series.
The end result is a fine balance of male/female and solo/group acts, covering all styles of soul music and reaching back as far as 1958 with The Chantels' single 'Every Night', the earliest track in the series by three years.
The booklet is enhanced by an extensive interview Dave gave to Jon Savage in the 90s, with Jon also writing an introduction. Where relevant, Dave's words, mainly from the pages of Blues & Soul magazines of the time, are used in relation to the recordings.
Track listing below and the album is out on 25th October but available for pre-order now, selling for £13.77.
Find out more at the Amazon website
Track listing:
01 Who Knows – The Soul City
02 Without Love – Ronnie Taylor
03 Don't Pass Me By – Big Maybelle
04 Where Is The Party – Helena Ferguson
05 Dead! – Carolyn Sullivan
06 Home Is Where The Hatred Is – Esther Phillips
07 I Ain't Got To Love Nobody Else – The Masqueraders
08 I'll Be Right There (To Make Love To You) – Mark IV
09 I'm Not The One – Kenny Carter
10 Somebody New – The Emotions
11 (Until Then) I'll Suffer – Barbara Lynn
12 Foolish Fool – Dee Dee Warwick
13 My Desires Are Getting The Best Of Me – George Jackson
14 These Ain't Raindrops – James Carr
15 Standing At The Crossroads – Eddie & Ernie
16 Can't Last Much Longer – Betty Harris
17 Lovers Always Forgive – Gladys Knight
18 Every Night (I Pray) – The Chantels
19 Satisfaction Guaranteed – Judy White
20 Right Here Is Where You Belong – Jerry Washington
21 I Will – Lattimore Brown
22 It's Too Late (For Tears) – René Bailey
23 All I Want Is You – Zilla Mayes
24 What Can I Do (Without You) – Linda Jones
25 Nothing Can Change The Love I Have For You – Z Z Hill