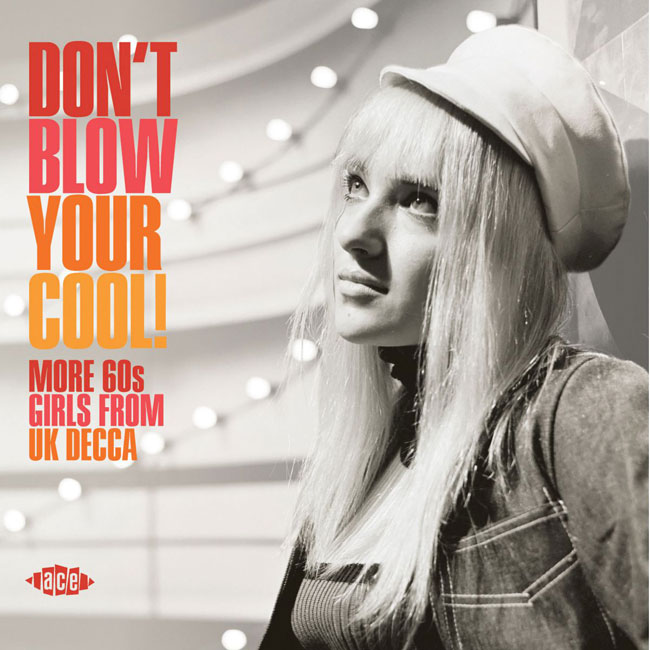 I mentioned a US compilation earlier, now here's one for UK girl groups. Going by the name of Don't Blow Your Cool!
Once again, this is an Ace Records compilation, which in my book is always a sign of quality. Unlike the She's All Right With Me! Girl Group Sounds USA 1962-1968 collection, this one is a CD release rather than vinyl.
As for the content of this upcoming release, that's described as 'superior British she-pop from Decca Records' 1960s catalogue', including a bunch of new-to-CD titles.
It's also something of a homecoming for Ace too. Back in 1986, Ace became the first reissue company to go down this road with 'Girl Zone', a vinyl compilation of feminine gems from Decca Records' 1960s catalogue. Despite the gamble of releasing it, the compilation did well. In recent years, Ace has got back into this particular genre with a hist of compilations based around certain labels and countries, finally coming full circle with this one.
The tracks here are a mix of 'proven fan favourites' and those new-to-CD titles I mentioned. 10 in total.
That includes the rarely heard French-language recordings of 'Summer Nights' by Marianne Faithfull and 'You Just Gotta Know My Mind' by Dana Gillespie; Billie Davis' recording of 'Me About You' from her Decca album; American jazz singer Joy Marshall's soulful cover of Roy Hamilton's 'Heartache Hurry On By'; 'The Spark That Lights The Flame' by Northern Ireland's Margo, lead vocalist of the Marvettes; 'Backstreet Girl' by singing actress Adrienne Posta; 'Mr Scrooge' by teenage girl group the Orchids; and, with the theme from cult favourite TV series Adam Adamant Lives!, Kathy Kirby.
Topping things off is a colourful picture-packed 24-page booklet packed with all the notes you could need to lead you through it. The album is out on 29th May 2020 and the price is £15.99. Tracks below.
Find out more at the Amazon website
Tracklisting:
1. All The Time In The World – Stevie Kimble
2. He Loves Me, He Loves Me Not – Dana Gillespie
3. Jenny Let Him Go – Antoinette
4. Take Me As I Am – Lulu
5. You – Lorraine Child
6. With You In Mind – Marianne Faithfull
7. Primrose Hill – Kathe Green
8. Mind How You Go – Barry St. John
9. Some Things Just Stick In Your Mind – Vashti
10. Me About You – Billie Davis
11. Heartache Hurry On By – Joy Marshall
12. What Am I Doing Here With You – Twinkle
13. Museum – Beverley
14. Tu N'as Vraiment Pas Changé – Dana Gillespie
15. Don't You Feel Proud – Barry St. John
16. The Spark That Lights The Flame – Margo
17. Nuit D'été – Marianne Faithfull
18. Picking Up The Sunshine – Beverley
19. Backstreet Girl – Adrienne Posta
20. Mr Scrooge – The Orchids
21. Don't Blow Your Cool – The Caravelles
22. Promise Of Something New – Kathe Green
23. Love For Living – Clare Torry
24. The Adam Adamant Theme – Kathy Kirby