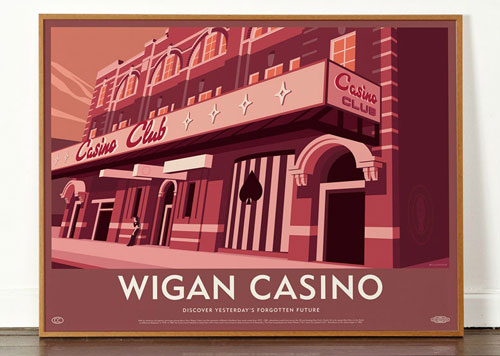 If you want an artwork of either the Wigan Casino or the Eel Pie Island Hotel, you can now get them courtesy of the Lost Destination range by Dorothy.
If you haven't encountered the range before (and there's no reason why you should have really), the artwork feature lost, forgotten or ignored design from the 20th century, with illustration courtesy of Stephen Millership in the style of vintage travel posters.
The selection of artwork has gradually increased and now takes in lost music venues too, including mod-friendly haunts the Wigan Casino (demolished back in 1982) and the Eel Pie Island Hotel, which played host to the likes of The Rolling Stones, The Who, Jeff Beck, Eric Clapton, Rod Stewart and The Yardbirds, but was lost in a fire back in 1971.
Both are available to buy online as 5-colour litho prints on 120gsm uncoated art paper, sized at 60 x 80cm and selling for £35 each.
Find out more at the Dorothy website