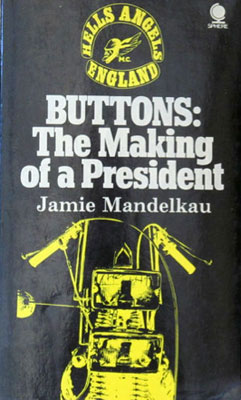 Just noticed that there's a copy of Buttons: The Making of a President by Jamie Mandelkau on eBay right now, which might be of interest to people reading this site.
On the face of it, the book shouldn't be. Essentially, this is the autobiography of a ted and the man who brought the Hells Angels England franchise to the UK. But it also covers the early years of the biker scene in the UK,, including the legendary clashes around London, mixing with gang mod face Beardy Pegley. Details of which make Brighton beach riots of '64 seem like a tea party.
Rarely comes up on eBay and when it does, prices for this out of print 1971 paperback can spiral upwards. This copy is still at its 99 pence starting price, which makes it a potential bargain.
Find out more at the eBay website
Note that there are a couple of copies on Abebooks too, one in the US and one in Australia.