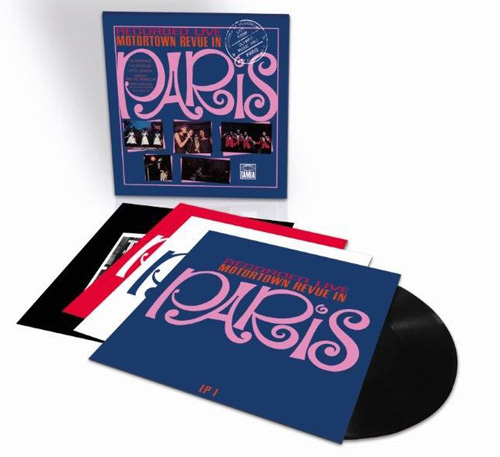 It has been on the shelves before, but Motown's Motortown Revue In Paris has never been out in this form.
This is a Motown show from Aprl 1965, one that took place at the Olympia in Paris, the final date of Motown's first tour outside the US.
The show was recorded, but only part of it ever got a full release as the Motortown Revue In Paris in the same year. Now we have the full show heading out way in its original running order, featuring 12 previously unissued tracks.
The entire set now covers a double CD and a three-album vinyl set, the latter looking wonderful in terms of the packaging.
All the track listings are below, with the shelf date set for 25th March 2016. You can pre-order it now, with the CD priced at £12.99 and the vinyl set retailing for £31.99.
Find out about the CD at the Amazon website
Find out about the vinyl set at the Amazon website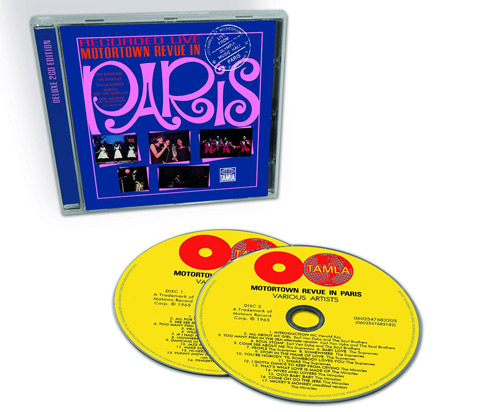 Track listing – CD:
Disc: 1
1. Introduction / Motortown Revue In Paris – Harold Kay
2. All For You – Earl Van Dyke Sextet
3. See See Rider – Earl Van Dyke Sextet
4. Too Many Fish In The Sea – Earl Van Dyke Sextet
5. Heat Wave (Including Introduction) – Martha & The Vandellas
6. Wild One – Martha & The Vandellas
7. If I Had A Hammer – Martha & The Vandellas
8. Nowhere To Run – Martha & The Vandellas
9. Dancing In The Street – Martha & The Vandellas
10. Jazz-Blues Instrumental – Stevie Wonder
11. Make Someone Happy – Stevie Wonder
12. High Heel Sneakers – Stevie Wonder
13. Funny (How Time Slips Away) – Stevie Wonder, Clarence Paul
14. Fingertips – Stevie Wonder
Disc: 2
1. Introduction / Motortown Revue In Paris – Various Artists
2. All About My Girl – Earl Van Dyke Sextet
3. Too Many Fish In The See (Alt. Version) – Earl Van Dyke Sextet
4. Soul Stomp – Earl Van Dyke & The Soul Brothers
5. Come See About Me – The Supremes
6. Baby Love – The Supremes
7. People – The Supremes
8. Somewhere – The Supremes
9. Stop! In The Name Of Love – The Supremes
10. You're Nobody 'Til Somebody Loves You – The Supremes
11. Shake – The Supremes
12. I Gotta Dance To Keep From Crying – The Miracles
13. That's What Love Is Made Of – The Miracles
14. Wives And Lovers – The Miracles
15. Ooo Baby Baby – The Miracles
16. Come On Do The Jerk – The Miracles
17. Mickey's Monkey – The Miracles
Track listing – vinyl:
Disc: 1
1. Introduction / Motortown Revue In Paris – Harold Kay
2. All For You – Earl Van Dyke Sextet
3. See See Rider – Earl Van Dyke Sextet
4. Too Many Fish In The Sea – Earl Van Dyke Sextet
5. Heat Wave (Including Introduction) – Martha & The Vandellas
6. Wild One – Martha & The Vandellas
7. If I Had A Hammer – Martha & The Vandellas
8. Nowhere To Run – Martha & The Vandellas
9. Dancing In The Street – Martha & The Vandellas
Disc: 2
1. Jazz-Blues Instrumental – Stevie Wonder
2. Make Someone Happy – Stevie Wonder
3. High Heel Sneakers – Stevie Wonder
4. Funny (How Time Slips Away) – Stevie Wonder, Clarence Paul
5. Fingertips – Stevie Wonder
6. Introduction / Motortown Revue In Paris – Various Artists
7. All About My Girl – Earl Van Dyke Sextet
8. Too Many Fish In The See (Alt. Version) – Earl Van Dyke Sextet
9. Soul Stomp – Earl Van Dyke & The Soul Brothers
10. Come See About Me – The Supremes
Disc: 3
1. Baby Love – The Supremes
2. People – The Supremes
3. Somewhere – The Supremes
4. Stop! In The Name Of Love – The Supremes
5. You're Nobody 'Til Somebody Loves You – The Supremes
6. Shake – The Supremes
7. I Gotta Dance To Keep From Crying – The Miracles
8. That's What Love Is Made Of – The Miracles
9. Wives And Lovers – The Miracles
10. Ooo Baby Baby – The Miracles
11. Come On Do The Jerk – The Miracles
12. Mickey's Monkey – The Miracles