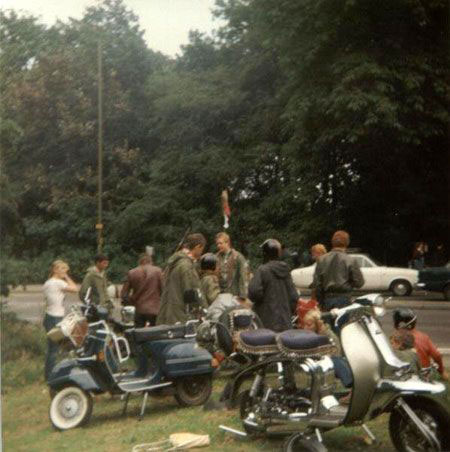 Note that I independently write and research everything in this article. But it may contain affiliate links.
Neale Hobday looks back at his formative years as a mod in Essex.
1979 – a group of mods including myself walked into a cinema in the heart of London to watch one of the first screenings of a film that would change our lives for ever. Yes the film was Quadrophenia.
Over the next few months I watched the mod scene grow and grow in Essex. I managed to save enough money to buy myself my first scooter, a Vespa PX150 and of course all the chrome accessories, plus loads of mirrors and spot lamps.
Week days were spent meeting at the local Seafarer chip shop, where we used to invade in numbers. In this gaggle of hyperactive mods were two guys I became good friends with – Wayne and Lee Evans. Yes none other than Lee Evans the comic.
Saturday nights you could find us at a club near Southend-on-Sea called Baron's, a fantastic place where you could dance and meet people from all over Essex. You would always find hundreds of scooters parked outside the club on a Saturday night. Barons was the first place and only place I saw Alison Moyet in an R'n'B band called 'The Screaming Abdabs', who didn't go down too well.
The bank holidays were the best – Brighton, Margate and Great Yarmouth. Just thousands of scooters. I wasn't into the violence, I preferred just to enjoy the scene and the friends you made.
A couple of weeks ago my dad was looking through some old photographs, and found two of me one in my 'mod' suit, button down shirt and inch wide tie and the other of me on the back of a Lambretta with a friend called Nick.
Which leads me to the story of my two week holiday to Broadstairs back in 1979 – the last holiday with my parents, as my brothers and I were getting just a little to old for family holidays.I was there, thinking I was all so cool walking up and down the seafront in my suit. It seemed as if I was the only mod in town. Then one day as I was doing my usual walk I suddenly came to a halt. Right in front of me was a fantastic Lambretta all mirrors and chrome, it was parked just to one side of an Italian ice cream and coffee shop, so I went in for a nice Latte.
Behind the counter was the owner of this fine scooter, we soon got chatting about all things mod. His name was Nick, he looked just like Chalky from Quadrophenia. Instantly we were friends, we spent the whole two weeks riding around on his scooter – chasing ladies, pubs, slow motion beach fighting when your drunk – what fun! But all good things come to an end, it was my time to return to Billericay and back to reality. We swapped phone numbers and said we would stay in touch, which we did for a while – Nick even rode up to Essex to see me and meet my friends. We lost contact after about a year, the last I heard of Nick he had moved to London and was singing in band.
Many years have past now still think of those mod days. Today I am forty three, older but no wiser. Me and my brother Dean set about to renovate Lambrettas and sell them, five scooters later and we haven't sold one we just decided to keep them and enjoy. My dear mum died about two years ago and left a few pounds to each of her sons.
I decided instead of just wasting the money I would renovate a Lambretta, so we did. The picture shows the beautiful scooter,my brother said its as perfect as our mum was.
Save
Love Modculture? If you enjoy what you read or have benefitted from it and want to
help with the ever-increasing costs of the site and newsletter
, you can always
buy me a coffee at Ko-Fi
. Every penny is helpful and appreciated.