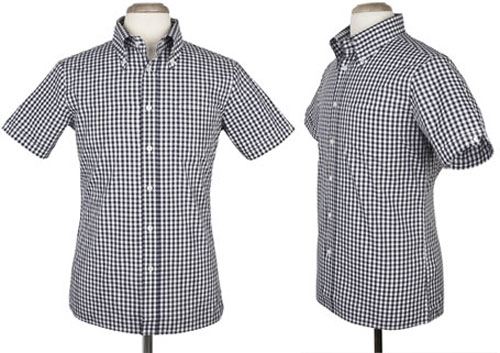 Note that I independently write and research everything in this article. But it may contain affiliate links.
You can pick up plenty of decent slim-fitting shirts on the high street these days, but if you want something just a little bit different and distinctive, here are five modern-day mod shirtmakers that are worthy of your attention, listed here in no particular order.
1. Brutus
An old name, but a new shirt – the 1966 Brutus Trimfit shirt is back in the shops for 2009. It's a great reproduction too, a button-down collar with nice roll, a button at the rear of the collar and short sleeve and a very nice slim-fit. A well-made shirt that even comes with some retro packaging and a pocket square as a bonus. The shirt is still made by the original 'Brutus' family and comes in at a very affordable £45 in three colour options (with more to follow). Welcome back Brutus.
Another heritage brand still making 60s-style shirts is Aertex, although the sizing is a little more generous than the Brutus shirts and their designs have lost their way over the last 12 months.
Find out more at the Brutus website
2. Adam of London
Adam Shener (of Adam of London fame) has been producing stylish clobber for more years than anyone cares to remember, still selling stylish mod-styled suits off the peg both online and in his Portobello Road store, along with some very smart 60s-styled shirts. If you're after a tab collar shirt, it should be one of the first places to look, but Adam also offers other formal styles as well as the recently re-introduced button-down range, which includes, plain, check and the very popular polka dots. All the shirts are British-made from 100 per cent cotton, retailing for between £45 and £55.

Find out more at the Adam of London website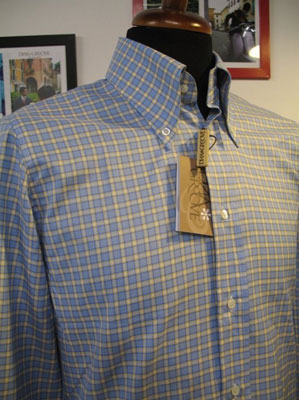 3. DNA Groove
DNA Groove has been one of the most popular mod-friendly online stores for a number of years – and its shirts have been significant in driving that success. Most of the shirts are off the peg, big on mod detailing and individuality, both in terms of look and the cloths used (new cloth is constantly being sourced). Check out the site for a variety of long and short sleeves, slim and more 'generous' fits, different sleeve lengths plus both button-downs and tab-collared shirts. If you can't find anything that fits your specific needs, owner Claudio can also do bespoke with either his own or your cloth. Always worth a look – and shipping is worldwide. Expect to pay around 60 Euros.
Find out more at the DNA Groove website
4. Trimfit
Not to be confused with the Brutus Trimfit, Lily at Trimfit UK in Leeds offers classic shirt styles from days gone by, reproduced for a modern-day market. Specifically, that means reproductions of classic looks from the 50s, 60s and 70s from your choice of fabric, complete with any detailing you require (back pleats, contrasting cuffs, collar size etc). The tailored option, but without the tailored price – £69 for a shirt sleeved shirt, £79 for a long sleeve.

Find out more at the Trimfit UK website
Also in Leeds, you might want to check out George Lilley too, a popular tailor and shirtmaker in the city, who can produce a '60s Ben Sherman-style shirt in your cloth or his for a very affordable price. See the tailoring section for the address details.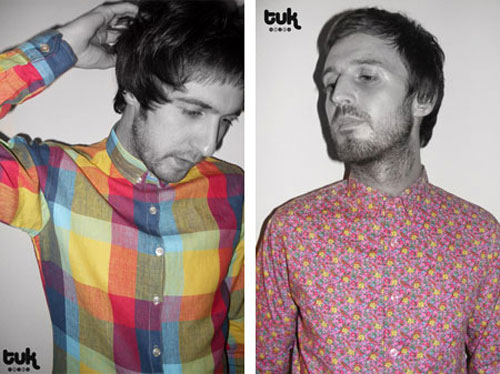 5. Tuk Clothing
Tuk Clothing is a new name, creating shirts you just might love – or indeed, just might not. The company specialises in short runs of slim-fit shirts, made by local tailors in South Asia using 'interesting' or vintage fabrics. Short and long sleeve, button-down or not, you can take pick. But some people don't like the small button-down collars, while others might find some of the shirts a little too bold for their tastes. Saying that, we love them – and love the idea of short runs, which means you're unlikely to see your shirt on anyone else on a night out. And the company does do bespoke finishing, if you want to change any details. Prices are around the £55 mark.
Find out more at the Tuk website
Save
Love Modculture? If you enjoy what you read or have benefitted from it and want to help with the ever-increasing costs of the site, you can always buy me a coffee.