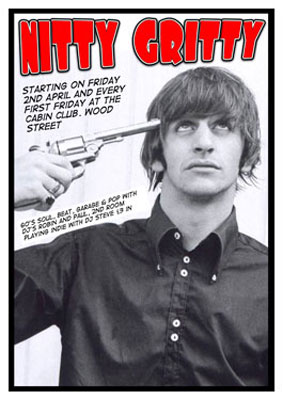 We get the lowdown on the newly-launched monthly night in Liverpool.
1. When and why did you set up the club?
Nitty Gritty is a new night in Liverpool kicking off on Friday 2nd April (and every first Friday thereafter) at The Cabin Club. It has come about as a result of our long running previous night, Uptight being ended by the promoter in January. Uptight was Liverpool's largest and longest running 60s clubnight having been an ever present in the city for almost 15 years. The previous venue worked really well for our purposes and it's longevity meant it became ingrained on people's consiousness as the 60s night in Liverpool. However, the move away has given us the opportunity to develop the night further and handed control to those who worked hard to build up the night's previous incarnation and have deep passion for the music.
The emphasis has dropped from a weekly to a monthly concern in a larger venue making it more of an event with a greater number of people being able to be accommodated. A change of venue with the Uptight DJ's now promoting themselves allows for us to retain greater control over the way the night is set up and the music played. A two room venue has also granted the opportunity to promote a night with a broader range appealing to a greater number of people.
2. Who are you DJs? Do you have guest DJs coming in too? If so, anyone we might know?
Former Uptight residents Robin McGinn and Paul Smith continue to take the reigns in the main room with Steve Farrell and guests spinning the more recent sounds in room 2.
3. What kind of musical territory do you cover?
The spectrum is pretty broad with the main room covering most aspects of music from (but not restricted to) the 60s era with most tracks dating from between the period '57 – '73. The emphasis is on high tempo and upbeat dancers be they soul, beat, R'n'B, garage, psych, boogaloo or lounge with the odd wildcard thrown in for good measure of course!
4. Give us an idea of a few tracks you might hear if you dropped in?
We try and play a mixed bag of stuff but recent spins have included;
1. Fire – 5×5
2. No.1 in Your Heart – Herbie Goins & the Nightimers
3. Shake – Shadows of Knight
4. Stoned Love – The Supremes
5. Tripmaker – The Seeds
6. Aint No Sun Since You've Been Gone – Chuck Jackson
7. Girl Don't Let Me Wait – Timebox
8. Soul Clap – The Trends
9. Aint No Reason – Bobby Marchan
10.Chante – Ronnie Bird
5. What do you think you offer that other clubs might not?
In our experience, nights of this nature vary wildly both in quality and style with many having a policy of either playing only the rarest and most obscure tracks or conversely not able to cater for those with a more left of centre taste. Nitty Gritty does both providing an eclectic mix of tunes from across the spectrum regardless of whether they be household names or wild obscurities. If it's a dancer, it gets spun. In the second room we play more contemporary post 60s mod sounds and mod inspired music with the same ethic applied.
The policy is open minded and open door with an approach that moves away from the often insular attitude prevelant at some mod and soul nights.
6. Your current venue – how long and have you been there and how does it work for the club?
The night kicks off on Friday 2nd April 2010. The Cabin Club is Liverpool's oldest nightclub and has not has a serious re-furb since 1961, retaining all it's original fixtures and fittings giving that extra authentic vibe to the night. There are two main rooms with the larger room on the ground floor and a smaller second room in the basement complete with rocking horse and fountain!. Each of the rooms has its own bar and side room for when you need to sit down to rest your feet.
7. And how many people do you tend to attract for each night? Do you think anything might put people off coming along?
Uptight regularly attracted between 100-150 people on a weekly basis. Like a lot of nights we had our regulars who came every week but often much of the crowd was made up people coming down once or twice a month. By dropping to a monthly event, we can now get everyone in the room all at the same time giving the place a great atosmphere with up to 400 dancing at any one time.
8. What's your view on the current state of mod/soul nights?
On the whole the scene is pretty good shape, particularly in our neck of the woods. A couple of years ago there very little about and choice was pretty thin on the ground, but recently that has changed significantly with a number of nights springing up locally catering for a much broader range of tastes. We have noticed ourselves numbers attemding also seem to have increased over the last 18 months or so, particularly with the younger crowd which is always nice to see.
9. What's the best and worst thing that's happened with the club?
Having the plug pulled on Uptight is probably both the worst and the best thing that could have happened. Losing Uptight @ Le Bateau was a blow, we had been there so long that the two became inextricably linked and people knew who we were and where we were. However the change has also been a shot in the arm for us, providing us with an opportunity to develop the night into a larger event at a larger venue with scope to get even bigger and better.
10. Finally, we need the lowdown on the club – listing details, how often, how to get in touch, that kind of thing.
It starts on Friday 2nd April 2010 (Good Friday) at the Cabin Club, Wood St, Liverpool, L1 4AQ (top of Wood Street on the corner of Berry St, opposite the St Luke's Church) and is a monthly event, taking place on the first Friday of every month 9pm – 3am. It's £3 in and you can get in touch with the club on 0151 709 6468 or alternatively, you can contact us directly through our Facebook page.