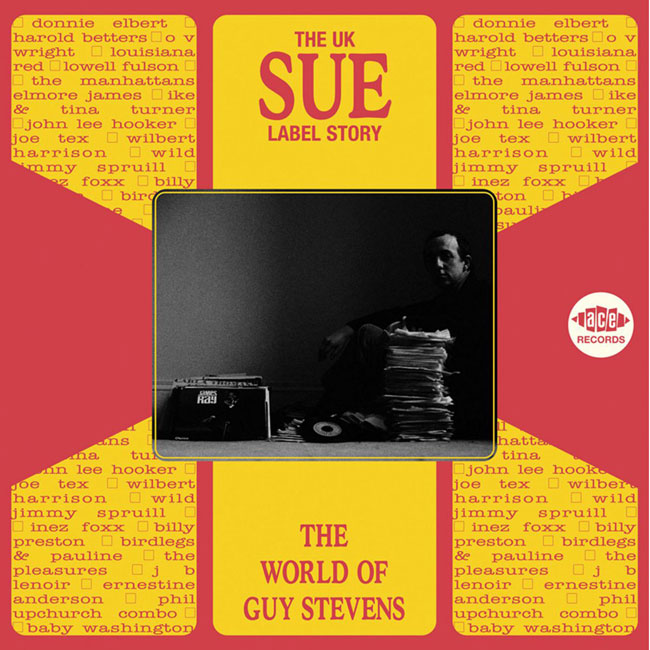 Note that I independently write and research everything in this article. But it may contain affiliate links.
Doug Hadgraft waxes lyrical about Sue and why it is viewed as the ultimate 'mod' record label.
The Sue thing, where did it start? I guess what started it was the release of a compilation cassette of Sue tracks in the mid-80s released by Island or was it Ensign? It was titled 'Maximum R&B' and was packaged with a bold tri-colour cover – red and yellow with black font.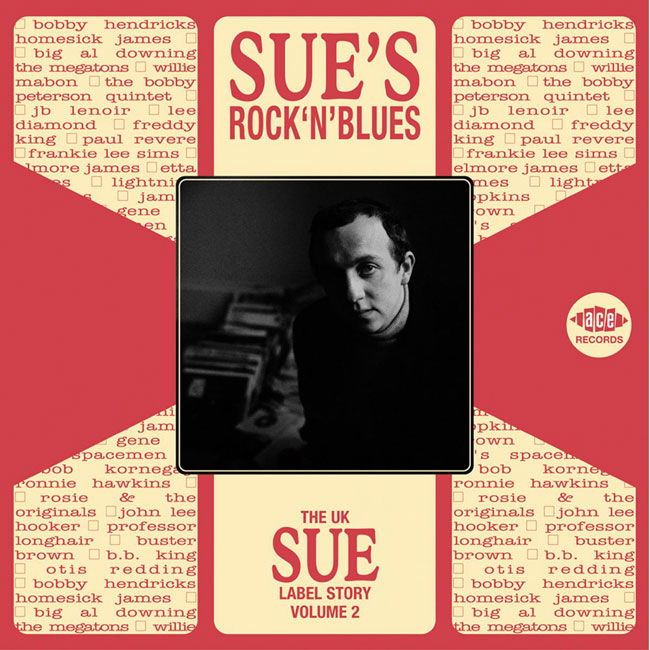 That was the defining moment – up until that point, the little mod kids of Hazel Grove in Cheshire, although attempting to dress smart on paper round funds, were a little lost musically. The weak diet of new releases and fanzines picked up on annual trips to the big smoke and Carnaby Street and unlimited access to older siblings '79 mod revival LPs and 45s just didn't sound right or cut it. Of course tips on music also came through general word of mouth when we used to walk to Bramhall roundabout to meet the established and far hipper Cheadle Hulme mods.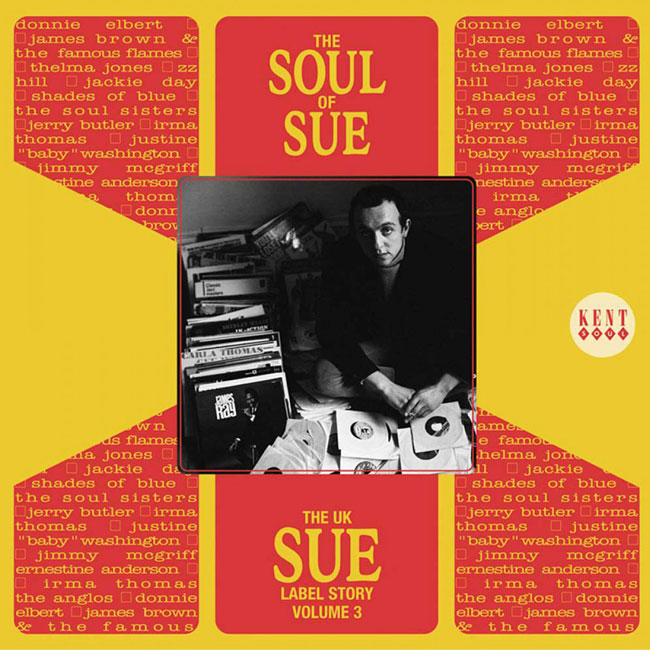 The tape wasn't even mine, it came from my spar Higgins. The tracklisting of the tape is hazy but certainly included the following. 'So Far Away' by Hank Jacobs – the epitome of Hammond chic? A record I still never tire of, it still instantly transports me to smoky Formica espresso bars or to a vision of playing the sophisto wallflower in some late hour's Parisian basement.
'Daddy Rolling Stone' by Derak (sic) Martins , I still get a kick and a smile as he arrogantly and assuredly growls his way through the first verse. Thoughts at the time – 'Wow, to be that confident'! Second verse the cad sings about nicking his friend's girlfriend:
Girl, you think you've had a loving
Girl, you think you've had fu-un
Girl, you ain't a seen nothin'…
'Til I-I-I-I come along I'm a daddy (daddy rolling),
I'm a daddy (daddy rolling),
I'm a daddy (daddy rolling)
Yeah I'm a daddy (daddy),
daddy (daddy),
I'm daddy rolling stone (Daddy rolling stone!)
'Hitch Hike' by Russell Byrd, after slickly rapping a series of step dances, guides you gently into the break of the song by telling you to 'make a three-step turn' Irresistible! Crescent City vibes courtesy of Prince La La's 'She Put The Hurt On Me', slick modern blues via Jon Darrow… wait….how can I be forgiven for failing to mention the essential B3 aficionado Jimmy McGriff and 'All About My Girl'…. don't forget about that false ending ya chump. Soul Sisters, Ike and Tina Turner, Phil Upchurch, Inez and Charlie Foxx, Baby Washington…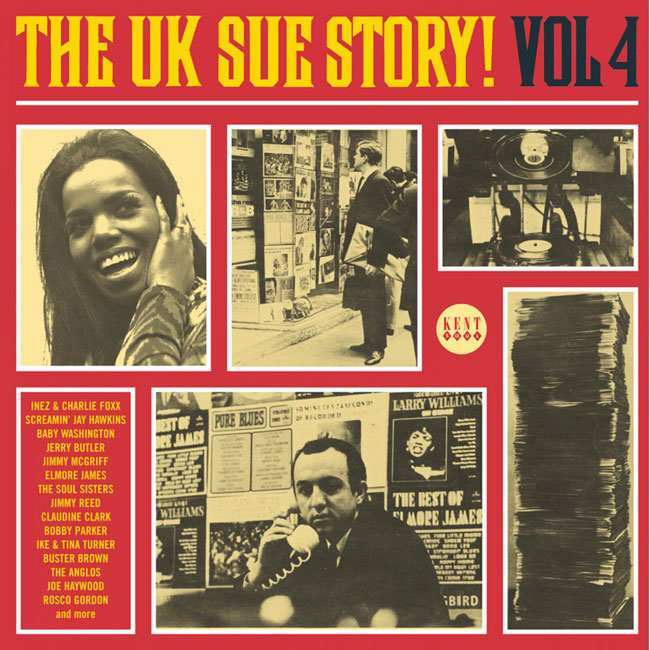 Is it unreasonable to try and assert just how exciting and exotic these song titles and artists all sounded to a 14-year-old? The real clarity, however, was that this music fitted. Could this be the moment I was touched by the hand of mod, I guess so. We played the tape until it snapped.
Sleeve notes are always a great thing for the knowledge thirsty music anorak and 'Maximum R&B' as well as drenching our musical thirst, sent our imaginations into orbit as we were taken into the life of Juggy Murray, Chris Blackwell and of course Guy Stevens and the Scene Club. A well-loved story, Guy was the DJ laying the platters at this genre setting London gig, which was centrally based at Ham Yard W1. If that wasn't acclaim enough, his day job was manager of this new Island Records subsidiary.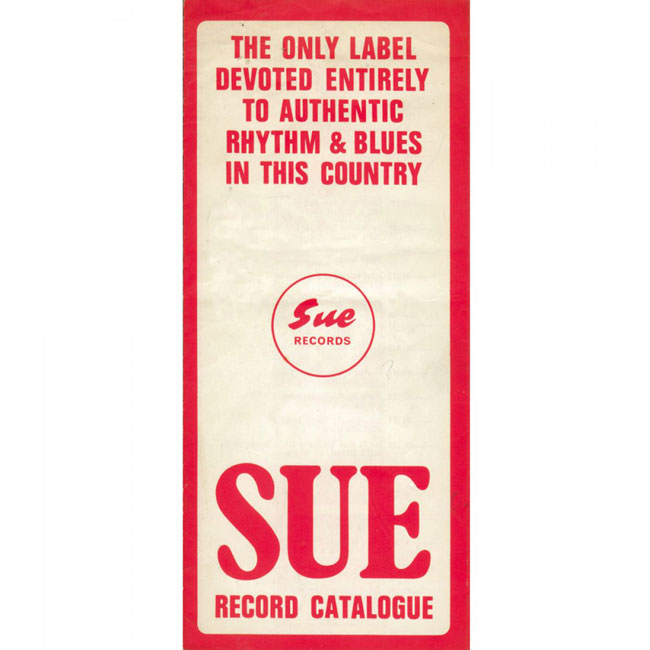 It brings an embarrassed smirk to admit this but this immediately prompted me to eagerly phone Island Records to ask for a contact number for Guy Stevens to interview him – and after being transferred through several levels of hierarchy, I was told by a bemused executive that Guy had passed away three years earlier in 1981. In more recent times, Guy's inaugural style of playing is now considered by some to have helped define the role of club DJ in the modern sense of the term. This is a fair assumption.
So what has pursued over the last 15 years, is a search in true record collecting and completist fashion. Badgering, hounding, hustling, hassling the UK's record dealers:- 'Any Sue?'. I remember a bemused dealer from Stoke meeting me in a hospital car park to deliver the spoils of 5 Sue records, him travelling salesman after work, me spotty kid in school tie. (Or was it a school kid in a spotty tie? anyways…).
A few lucky breaks on the way, a friend of Roger Eagle from Waterloo near Liverpool allowed me to buy up what he had when funds permitted. I can remember them both enthusing at the time about Bobby Patterson's 'Rockin Charlie' and how big it was at the Wheel, which really threw me because our idea at that time of a 'Wheel' record was something of a different beast altogether: I suppose our idea was more Whitworth Street than Brazennose.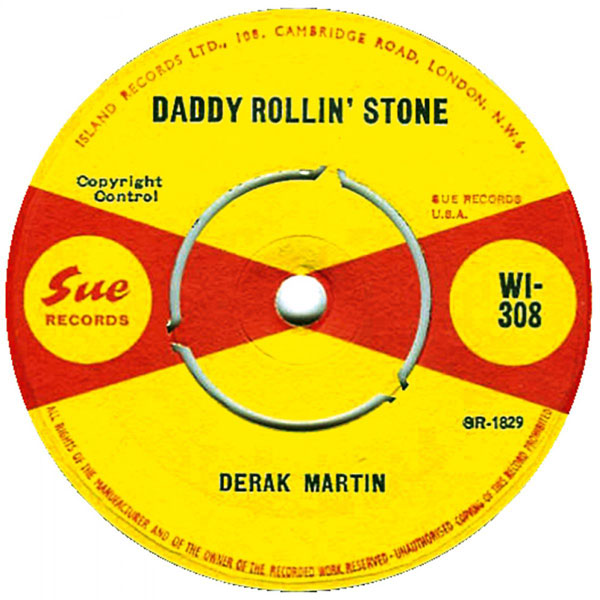 Also a sales rep from London-American Records, offloading his Sue collection – that was lucky, a case of right place at right time. Then it stopped, teenage years over. The crew split into suedeheads and jazzheads. Also, the early '90s was a funny time in MCR, there seemed to be a lot of energy and intrigue in other areas of black music to pursue and investigate that were hard to ignore. So, probably around 110 singles were put on the shelf.
It seemed a shame to leave a project unfinished, the last two years has seen the badgering start again – ask Les Hare or Mick Smith! Now probably down to the last three or four singles, depending on what you class to be released/unreleased.
Long since moved from Manchester but have still kept an eye on the city and its residents. The energy and undercurrents are back. Immensely proud of the Hideaway club and its achievements and was also very proud to see on the early playlists, so many Sue B-sides that I had personally thought were of merit.
Let's move onto the recent releases from Ace and Kent records, the sleeves each have a classic photo from the Gered Mankowitz sessions. Personally, it is worth the money for the sleeve notes alone. Just to take the first compilation, for example, it's very lovingly put together and co-ordinated by Rob Finnis. The interviews with label associates and friends and family of Guy, altogether help create an image of how evangelical the emerging R&B scene really was.
The included press releases and the forthcoming release adverts also highlight this enthusiasm. It's novel to learn that the classic design of the Island label was by fledgeling advertising agency Saatchi and Saatchi. Best to leave it there as it is a cool read and one to enjoyed at first hand.
It's in the grooves that count and there can be nothing to complain about here, very balanced and plenty to wear the shoe leather down too. It isn't just the usual Sue story suspects either. Play it loud and for those of us that are perhaps a bit better 'travelled', forget the number of times certain sides have been heard. People it does not matter, this is true timeless finger-clicking Club Soul at its max, check this sequence: Chris Kenner's 'Land Of A Thousand Dances' (sincere apologies first to Reg King and George Martin but The Action didn't do a better cover version that time, Kenner can't be beat). Next up is a call to the dance floor if ever there was one, I'm talking about the solid, infectious, snare and bass drum intro of Ike and Tina's 'I Can't Believe What You Say', followed by Donnie Elbert and straight into Harold Betters' 'Parts 1 and 2'. It's like a late 80s session at the Mitre Hotel.
'Keep An Eye On Love' by Ernestine Anderson. Yeah, it does deserve its own paragraph. Being a scene with a strong healthy desire for eclecticism, it was records such as this that helped keep this thirst at bay. It sounded new. The South American rhythm, big city NY production and Ernestine's superb vocal delivery sounded so fresh to our ears that it instantly gained reverence amongst collectors and dancers alike. If ever there was a voice that sounded like it was a welcome summer breeze listlessly dancing through an open window on one of those idyllic scorcher days, this is it man. Even repetitive playing cannot diminish the shine for me. Now with the access to Latin American music that we have, I recently played it to a fellow boogaloo enthusiast and he just didn't rate the song as a stand out track? What can you do? Had to be there I guess.
Other evergreens picked straight from the US Sue catalogue stand present, the fore-mentioned Jimmy McGriff, Derak Martin, Baby Washington, all stand well next to the group sounds of The Olympics and The Manhattans, the city R&B of Lowell Fulsom, the shuffle of Louisiana Red , Bobby Parker's uptempo 'Watch Your Step' (riff cribbed by the Beatles no less), the pure electric blues of Elmore James and sparse acoustic blues of J.B.Lenoir . It's all here. Even deep soul via O.V.Wright, although I am sure this is a different cut to my 45, must check.
What I like about most about the release is the inclusion of LP-only cuts, and Hard Grind by Wild Jimmy Spruill provides a cool shuffler of a guitar instrumental. Record Collectors will agree on the following about the last track. 'Billy's Bag' by Billy Preston. It has been seen so frequently that it does not usually merit a second glance when found in a box or the effort of a spin.
Similarly, I could not tell you the last time I even thought of playing my copy in-house. It caught me off guard, playing the CD, I am surprised to say how good it sounded included on this compilation, where it escapes judgement that is perhaps unfair and harsh for its relative availability.
Anyways, a l'il tip, anyone that does not own a copy of Billy Preston should buy it for the flip 'Don't Let The Sun Catch You Crying'. It's not necessarily a club sound, the groove is slow, but it is also one of the most emotional and percussively played Hammond instrumental committed to wax and then some. Amen.
Doug Hadgraft
As mentioned in the article, if you want an introduction to Sue Records, that is provided by the always-excellent Ace Records.
Your first port of call should be the wonderful The UK Sue Label Story: The World of Guy Stevens, which is a CD release for under a tenner.
Other releases that followed were The UK Sue Label Story Vol.2: Sue's Rock 'n' Blues as well as The UK Sue Label Story Vol.3: the Soul of Sue and The UK Sue Label Story Vol.4. All of which are essential purchases.
Beyond that, get digging in the usual places and pick up the 45s.
Love Modculture? If you enjoy what you read or have benefitted from it and want to
help with the ever-increasing costs of the site and newsletter
, you can always
buy me a coffee at Ko-Fi
. Every penny is helpful and appreciated.