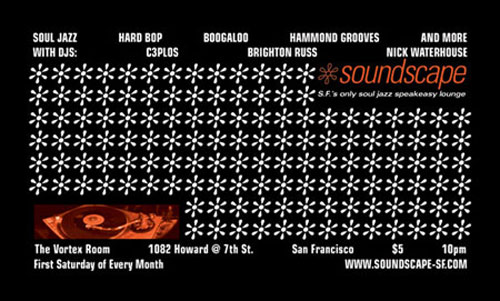 Note that I independently write and research everything in this article. But it may contain affiliate links.
Carlos Perez talks us through the Soundscape club in San Francisco.
1. When and why did you set up the club?
In the Bay Area, there have been many '60s northern soul, psyche, or garage nights, and we wanted to move away from that towards a style that no one else was really doing. The original idea was to get away from the pure the same '60s nights that had been going on and concentrate on jazz music, specifically modern jazz and soul jazz. Eventually, this grew to encompass a wider range of sounds from the '50s up to today.
2. Who are you DJs? Do you have guest DJs coming in too? If so, anyone we might know?
The DJs include C3PLOS (Diabolik, Kaleidoscope), Brighton Russ (The Happy Blues), and Nick Waterhouse (Do Right!). We're having our first guest DJ in March (Dr. Scott from Nightbeat), but guest DJs will be a once-in-a-while occurrence.
3. What kind of musical territory do you cover?
The night includes a mix of hard bop, soul jazz, 'dancefloor' jazz, latin jazz, boogaloo, Hammond instrumentals, bossa nova, soundtracks, sometimes ska, and even music from today's jazz scene. The types of sounds you can expect to hear include Lee Morgan, Freddie Hubbard, Nicola Conte, Georgie Fame, Timo Lassy, Grant Green, Jimmy Smith, Dave Pike, Hi-Fly Orchestra, Jimmy McGriff, Keith Mansfield, Willie Bobo, Ramsey Lewis, Mongo Santamaria, The Link Quartet, Pretty Purdie, The Bongolian, Booker T. and the M.G.s, Nina Simone, Nick Rossi Set, Lou Donaldson, Charles Earland, The Mohawks, Joe Cuba, Brian Auger, and many more!
4. Give us an idea of a few tracks you might hear if you dropped in?
You can usually expect some rendition of 'The Sidewinder,' 'Comin' Home Baby,' and 'Watermelon Man.' Other favorites include 'Moanin' (Ada Lee), 'Sweet Sweetie Dee' (Horace Silver), 'Amazon Bossa Nova' (The Cals), 'I Gotta Run Now' (Bobby Scott), 'Sticks & Stones Pt. 1 & 2' (Gene Ludwig), 'For Mods Only' (Chico Hamilton), 'The Worm' (Jimmy McGriff), 'Hi-Fly Stomp' (Hi-Fly Orchestra), 'Descarga Pa'ti' (Ken Morimura), 'Ya Dig' (Timo Lassy), and 'Sweet Tater Pie' (Dave Pike Set).
5. What do you think you offer that other clubs might not?
No other club right now, at least in the Bay Area, is doing a night like this. There are plenty of northern soul nights, garage nights, and other random '60s nights, but no one is really concentrating on the jazzier side of things. Plus the venue really adds to the vibe we've tried to develop. On the main wall is a large movie screen where we get to project some of our favorite '50s/'60s films such as 'Shadows,' 'Pierrot Le Fou,' 'Branded to Kill,' and 'Sweet Smell of Success.'
6. Your current venue – how long and have you been there and how does it work for the club?
Our current venue is The Vortex Room which is used mainly for movie nights, cocktail parties, or other private events. The venue is filled with pop-arty décor, projected patterns on the walls, local art pieces, and a giant movie screen above a tiny stage. It makes the club feel intimate and special since no other club venue in the area is set up this way. And since it's more difficult to locate, it has a speakeasy feel about it.
7. And how many people do you tend to attract for each night? Do you think anything might put people off coming along?
We usually get anywhere from 40 to 70 people a night. It's a small space and privately-owned so we can't advertise around the city too heavily. The only thing that would really put anyone off is that it can be difficult to find. Since it's a private space and not an actually club, it is run very much like a speakeasy. In other words, you sort of have to be in the know to get here.
8. What's your view on the current state of mod/soul nights?
There's a pretty wide range of '60s clubs going on in the Bay Area, but none of them are really 'mod.' Long ago, a lot of these sounds only would have been heard at a mod night, but in recent years, starting with soul, this music has really exploded out to the general public. There are plenty of northern soul nights, for instance, with huge crowds, but you'd be lucky to spot a mod-type person there. Nothing wrong with that at all and it blows our mind that this music has finally found an ample, excited audience. Same goes with the garage, psyche, ye-ye nights in town. With *soundscape, we're hoping to attract not only a 'mod' crowd, but a larger group of people excited about good style in general.
9. What's the best and worst thing that's happened with the club?
One of the best things about the club is the feedback we get from people. It was a bit of a risk trying to start a night like this, especially considering that it's not a straight-up 'dance' club. We thought people would get bored. On the contrary, people have been letting us know how much they enjoy the vibe and feelings they get hanging out here. Random people will approach us to let us know how much fun they're having, even if they're not getting sweaty on a dancefloor! The worst thing that's happened to the club… we used to be on a competing night with another soul club and that was just tough because we don't like to split crowds. It affected our attendance and may have affected the other club's attendance. Luckily, we've switched nights!
10. Finally, we need the lowdown on the club – listing details, how often, how to get in touch, that kind of thing.
Soundscape occurs the first Saturday of every month at The Vortex Room (1082 Howard, San Francisco, CA, USA). 10PM, $5. You can reach us on Myspace at http://www.myspace.com/soundscapejazz or on Facebook (just do a search of soundscape).
Also, our site is just about up at http://www.soundscape-sf.com.
Love Modculture? If you enjoy what you read or have benefitted from it and want to
help with the ever-increasing costs of the site and newsletter
, you can always
buy me a coffee at Ko-Fi
. Every penny is helpful and appreciated.